Product Description
The Purrfect Post is Designed for Cats to Love!
Veterinarian Designed - Cat Approved.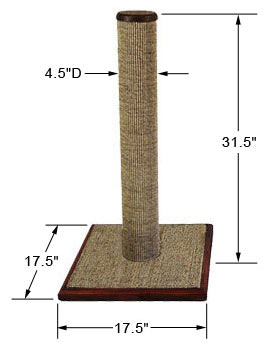 Tall - 31.5 inches tall, so your cat can stretch and achieve a satisfying scratch.
Sturdy - Double-thick, heavy base ensures that this post won't topple over.
Sisal Fabric - Premium sisal fabric covers post and base, so cats can scratch vertically or horizontally. Cats prefer scratching sisal fabric over carpet or sisal rope.
Attractive - Craftsman-made posts that are appealing to both you and your cat. Beautiful wood trims and caps available in light or dark stain.
Made in the USA - High-quality materials and expert construction.
Money Back Guarantee - If your cat doesn't absolutely LOVE this post, you can return it for a refund.
Free Catnip - Premium, 100% organic catnip included with every order.
To view product dimensions and color options, click on the the individual thumbnail pictures.
For more info on this great post, click here.
Check out our Testimonials and Gallery pages filled with satisfied customers.
We have more videos! Click the "Product Videos" tab below to see more videos featuring the Purrfect Post Deluxe!
Product Videos
Purrfect Post Deluxe and Purrfect Angle Combo
02:30
This video shows cats satisfying their natural scratching instincts by playing on the Purrfect Post Deluxe and Purrfect Angle Scratchers. The Purrfect Post Deluxe features long-lasting woven sisal, and the Purrfect Angle's replaceable corrugated cardboard scratching insert allows cats to get the most out of their stretches and scratches.
Purrfect Post ...

This video shows cats satisfying their natural scratching inst...
Product Videos
Other Details
atc-product:
/da-bird-wand-toy/
atc-product:
/colorful-comets-catnip-toy-single-assorted/
atc-product:
/honeysuckle-large-body-pillow-single-assorted/
atc-product:
/durascoop-cat-litter-scoop-single-assorted/
Product Reviews
Write Review
Previous | Showing reviews 9-12 of 144 | Next
Simply Purrfect!!

Posted by Debby on 9th Feb 2021

My newly adopted cat Lambo really loves this Purrfect Post Deluxe!! He uses it numerous times during the day and really loves to stretch out his long body on it. He is a large Tabby cat and the post holds up so well even with his weight of over 16 pounds. I check it frequently to see if it needs to be screwed in a bit tighter from his weight bearing on it and it is easy to screw in tighter. He especially loves to use it when he hears the heating system come on which kind of sounds like the wind- he just comes rushing to it. Thank you for this veterinarian designed scratching post- it is truly the best post ever! It is also a very attractive piece of cat furniture. Sometime, if I ever catch Lambo fast enough when my phone's camera is on, I will send in a picture of him using it. But he is so fast and unfortunately, I have to type in a code to get into the phone's camera!

Saving new sofa

Posted by Unknown on 8th Feb 2021

Really works

Great car post

Posted by Regina on 4th Feb 2021

Our cats love this post so we love it too!

Best scratching post I could find

Posted by Sarah on 20th Jan 2021

My cats are not even that big and all the pet store posts were too short and flimsy for them! This post is perfect, and allows them to extend their bodies and scratch up high which they both seem to love! Both of my cats will scratch at this post when they walk by it, which is also quite cute that they always do it. Mine are 6 months old so I may have decades ahead with these kittens, and it feels good to have found a quality post that will likely be with us for many years to come. Thank you Purrfect Post!
Click here for customer testimonials
Find Similar Products by Category