Product Description
The Purrfect View has been re-designed with an extra tall and extra wide post for even more scratching and stretching room.
The Purrfect View is constructed with durability, usability and stability in mind. It has two comfy platforms covered in stunning premium grade leopard carpet that are purrfect for kitty to lounge on and survey his or her surroundings (a favorite feline pastime). The uppermost platform was designed specifically to allow kitty to be at a height to look out a window. The sisal scratching surfaces on The Purrfect View provide kitty with multiple angles and areas to scratch and stretch.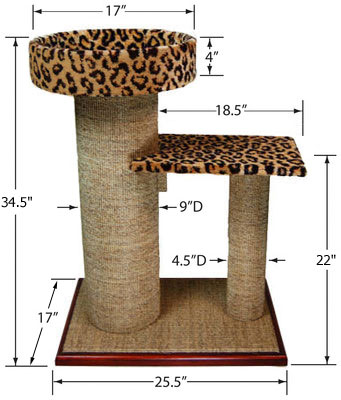 *Fact: Sisal is a natural material (derived from the Agave plant of Yucatan) whose strength far exceeds that of cotton or wool. Cats prefer it even to sisal rope because of the uninterrupted, smooth scratching texture.
Product Facts:
Individually Hand-Made in the USA
Available in light stain
Double-thick base for extra stability
Extra tall and extra wide post for scratching
Two perching areas for playing, snoozing and surveying terrain
The upper most platform is the perfect height for window gazing.
Scratching material is sisal fabric - a favorite for cats
Developed by a veterinarian
To view product dimensions and color options, click on the the individual thumbnail pictures.
Click here for more information about The Purrfect View.

You can make this snuggly cat bed even cozier by adding one of our individually handmade, incredibly soft and cuddly Muffin Blankets™ to your order. It will help keep your product's bed free of cat hair, and your cat will love how soft and warm it is. At 15" in diameter, the small size fits flush in the bottom of the bed, and at 22" in diameter, the large size drapes up the sides and over the top a bit. With two sizes and three color combinations available for this reversible blanket, you can customize your Purrfect Post product to your home even more.
We have more videos! Click the "Product Videos" tab below to see more videos featuring the Purrfect View!
Product Videos
Purrfect View and Purrfect Angle Combo
02:07
With the Purrfect View and Purrfect Angle combination, the variety of scratching surfaces will spice up the life of your kitties Whether snuggling up in the bed or platform, or using the inclined, vertical or horizontal scratching surfaces, your cats will surely be satisfied. Check out the View and Angle combo at purrfectpost.com.
Purrfect View ...

With the Purrfect View and Purrfect Angle combination, the var...
Product Videos
Other Details
atc-product:
/da-bird-wand-toy/
atc-product:
/dart-duo-laser-cat-toy/
atc-product:
/purr-fect-paws-cat-litter-mat/
atc-product:
/durascoop-cat-litter-scoop-single-assorted/
Product Reviews
Write Review
Showing reviews 1-4 of 42 | Next
The best product!

Posted by Lisa Canale on 31st Aug 2019

Purrfect posts are the best products. I started off purchasing them to give my cat something else to scratch besides the couch. He just loves them! We have three different posts plus a muffin blanket and he knows they belong to him. Thank you!

Training for Olympian kittens starts here

Posted by Laurel Hollis on 11th Jun 2019

I recently adopted a 5-week old male kitten whom we named Harry. Perhaps because he is from feral stock, Harry is proving to be a prodigious climber and all around athlete. After reading Amazon reviews, I decided it worth it to pay more upfront for a better built post/tree (Purrfect View). I liked the fact that there are replaceable parts and that there were no complaints about tipping, as with trees on Amazon. The other trees might be taller and more elaborate, but I think simplicity, sturdiness and stability are most important. At ten weeks, Harry could climb to the top and enjoy his perch on an attractive and solidly built piece of cat furniture. Well worth the initial cost. I'm going to get another one soon!

PURRFECT is PERFECT

Posted by Unknown on 21st Sep 2018

The purrfect view is everything as advertised. It's extremely well made, sturdy, and just the right height. Given time, I'm sure my cat will think it's as purrfect as I do.

My Cat is so content now!!!

Posted by Cheryl Arcella on 18th May 2018

So very pleased with this product. My cat kept scratching the upholstered furniture in our living room. Even though I had this big thick tower of sisel for her and a little one too. I think since I bought the Perfect Vue, she's just more content now, she loves it. It's Bed part, she loves sitting my the window to chirp at the birds and for a good long nap. Worth the money for me. It's her comfort spot, and a nice place to stretch and scratch!
Showing reviews 1-4 of 42 | Next
Click here for customer testimonials
Find Similar Products by Category