The Purrfect Post Info
Cat Tested
Vet Approved
Why Choose Purrfect Post?
It's Tall: Your cat can really stretch and achieve a satisfying scratch on this 31.5-inch tall post.
It's Sturdy: Double-thick, heavy base ensures this post won't topple over.
It Has Sisal Fabric: Cats prefer scratching sisal fabric over carpet or sisal rope.
It's Attractive: With beautiful color choices, real wood trim, and attention to detail, these individually-made posts are appealing to both your cat and you.
It's Made in the USA: Premium materials and craftsman construction—guaranteed.
The
Purrfect
Post
Deluxe
™
$109.95
+ shipping
| Features | Benefits |
| --- | --- |
| Exceptional Quality and Value. Handcrafted in the USA | This is a high quality post! It will last for years and bring great satisfaction to your cat. |
| Rugged, Textured, Woven Sisal Fabric (Not just sisal rope) | This is by far the preferred scratching material for cats. |
| Extra Tall Post | 31.5 inches tall! Allows your cat to fully stretch while scratching. |
| Heavy Duty Base | Solid, double thick, heavy base ensures extra stability. The only post made with a double-thick base. |
| Solid wood base trim and cap | For an attractive, quality appearance. |
| Strong, Sturdy Construction | Provides excellent stability so your cat will feel secure using it. |
| Premium sisal fabric covers both post and base. | Satisfies your cat's desire to scratch horizontal and vertical surfaces. |
| Easy to assemble and disassemble. | Allows for easy storage and transport. Replacement posts available, subject to availability of sisal colors. (Although this post will last a long, long time.) |
| Free Premium Grade Catnip included. | An added treat for your cat included with each post. |
| Attractive Design | Quality craftsmanship pleases both you and your cat. |
| Manufacturer Direct to You | Ensures you get the highest quality post at the best price. |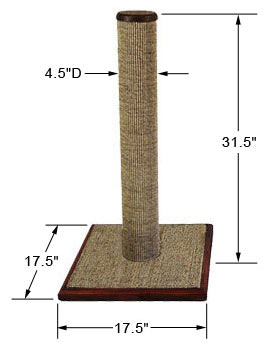 Purrfect Post Deluxe
---
Designed by veterinarian Christianne Schelling, who knows what cats want and need in a scratching post.
"I started out just making posts for my cats and friends' cats because there weren't any posts available that fit the bill as far as meeting all of a cat's scratching needs." Dr. Schelling said. "The posts became so popular that I had to start a business manufacturing and selling them. Purrfect Post was born because I created the ONE post that every cat should have.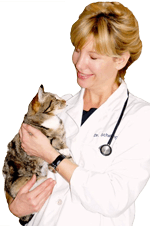 Tall, sturdy, and covered in sisal fabric. The added perk is that they're beautiful. They fit in with any home interior décor, so people can use them as an accent piece. They are sure to impress your friends both with how lovely they are and how much your cats enjoy them."

The primary cat-satisfying characteristics that Dr. Schelling incorporates into the Purrfect Post are based on good, old cat behavior know-how.
Cats Prefer Tall Scratching Posts. Cats don't want to be cramped and squished while they're scratching. They want to be able to stretch out their entire body and pull all those back and shoulder muscles. Like they would against a tree!
Cats Demand Scratching Posts That Are Sturdy and Stable. THIS is why cats love to scratch couches! They will be disgusted by a flimsy or wobbly post. Trying to scratch something that provides no resistance is frustrating, doesn't provide a good muscle workout, and can even be dangerous.
Cats Love to Scratch Sisal Fabric. Sisal fabric is a superior scratching surface to carpet or sisal rope. Cats love the texture and resistance. It is the Purrfect scratching material.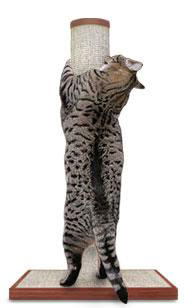 Mickey the 20lb. Monster of Love
"Hi, I'm Mickey, otherwise known as the 20 Pound Monster of Love.
(I'm not fat, just a big cat!)
I REALLY LOVE my Purrfect Post!
We big guys like a scratching post that we can really sink our paws into, and this one doesn't topple over when I do my workout. Don't you hate it when they do that? Take it from me, my Purrfect Post is even better than the couch!"
Dr. Schelling understands human behavior, too, being one herself, so the Purrfect Post doesn't ignore the things that people want in a scratching post. In order for cats to use scratching posts, they need to be in prominent areas of the home. Cats scratch partly to mark territory, so a post that's hidden in a corner won't do. But if a scratching post is ugly, a human won't want it front-and-center in their otherwise lovely home. Purrfect Post has you covered.
Solid Wood Caps and Trim: The rich colors of the Purrfect Post's caps and trims, available in light and dark finishes, are the perfect accent in any home.
Lovely, Understated Colors: With beautiful neutral colors, this scratching post will be a classy addition to your home, not an eyesore.
An Inconspicuous Profile: The Purrfect Post doesn't leap out at you when you enter a room. Instead, it adds to the overall home décor without overpowering it.
Made in the USA: American craftsmanship of each handcrafted Purrfect Post ensures maximum quality and construction. Purrfect Post supports the local economy while providing the BEST possible product.
The
Purrfect
Post
Deluxe
™
$109.95
+ shipping