Enter your email address to be notified
when this item is back in stock
Product Description
The Purrfect Post is Designed for Cats to Love!
Veterinarian Designed - Cat Approved.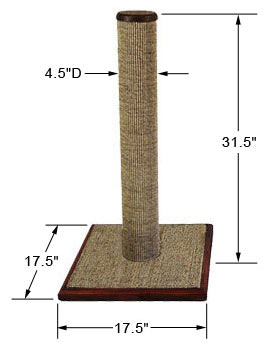 Tall - 31.5 inches tall, so your cat can stretch and achieve a satisfying scratch.
Sturdy - Double-thick, heavy base ensures that this post won't topple over.
Sisal Fabric - Premium sisal fabric covers post and base, so cats can scratch vertically or horizontally. Cats prefer scratching sisal fabric over carpet or sisal rope.
Attractive - Craftsman-made posts that are appealing to both you and your cat. Beautiful wood trims and caps available in light or dark stain.
Made in the USA - High-quality materials and expert construction.
Free Catnip - Premium, 100% organic catnip included with every order.
To view product dimensions and color options, click on the the individual thumbnail pictures.
For more info on this great post, click here.
Check out our Testimonials and Gallery pages filled with satisfied customers.
We have more videos! Click the "Product Videos" tab below to see more videos featuring the Purrfect Post Deluxe!
Product Videos
Purrfect Post Deluxe and Purrfect Angle Combo
02:29
This video shows cats satisfying their natural scratching instincts by playing on the Purrfect Post Deluxe and Purrfect Angle Scratchers. The Purrfect Post Deluxe features long-lasting woven sisal, and the Purrfect Angle's replaceable corrugated cardboard scratching insert allows cats to get the most out of their stretches and scratches.
Purrfect Post ...

This video shows cats satisfying their natural scratching inst...
Product Videos
Other Details
atc-product:
/da-bird-wand-toy/
atc-product:
/colorful-comets-catnip-toy-single-assorted/
atc-product:
/honeysuckle-large-body-pillow-single-assorted/
atc-product:
/durascoop-cat-litter-scoop-single-assorted/
Product Reviews
Write Review
Showing reviews 1-4 of 149 | Next
10 year customer!

Posted by Erica on 26th Feb 2022

We've been buying PurrfectPosts for over 10 years and my cats love them. They are high quality and good looking. Note - the royal crème color is more creamy than gray/white - hard to tell from photos. Still very pretty, just warm rather than cool.

Chief Scratching Officer approves this post

Posted by Melinda on 4th Nov 2021

Redirecting our cats to the new scratching post instead of the new sofa was the objective of this purchase. Success! With a few nudges and encouragement, they have stopped scratching furniture, walking past it to the new post.
Betsy, our Chief Scratching Officer, looks so happy when she's using it, able to scratch securely ( no wobbling) and in her favored full-vertical position, thanks to the height.

Satisfied Customer

Posted by Unknown on 20th Oct 2021

My cat started using his new scratching post as soon as I put it together. He prefers it to the upholstered chair. Hurray! I appreciate the high quality materials and construction.

Cat Scratching Post

Posted by Mark on 18th Oct 2021

Sturdy product and great quality. Cat loves it.
Showing reviews 1-4 of 149 | Next
Click here for customer testimonials
Find Similar Products by Category