Product Description
The MONDO!™ - It's Legendary!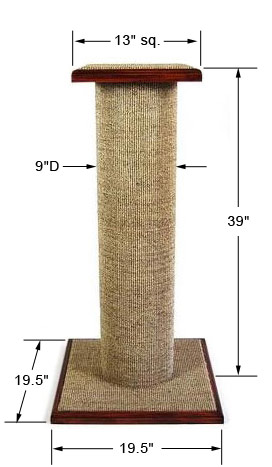 Coveted by Cats & Humans - This is no simple scratching post; this is a Scratching Tower! Cats look at it in awe before they rush to attack it. Humans proclaim, "Wow! That is one serious scratching post."
Tallest Woven Sisal Post Available - The MONDO! Is a whopping 39" tall.
Sturdy & Stable - It's tall, and that means it's even more important for it to be stable. Its double-thick, heavy, wide base ensures that your kitty can attack it with glee and be rewarded with an exhilarating scratching experience.
Top Platform for Perching - Sisal or carpet platform provides a place for your kitty to perch and check out the world.
Impressive & Attractive - This is a Pillar with a Presence. Craftsman-made with handsome wood trim in light or dark stain and high-quality materials so you can be proud to display The Mondo! in your home.
Made in the USA - Individually handcrafted with pride, and delivered directly to you.
Free Premium Catnip - Every order includes our 100% certified organic, super-potent catnip.
Money Back Guarantee - If you or your kitty don't absolutely love it, return it for a refund.
To view product dimensions and color options, click on the the individual thumbnail pictures.
For more information, check out our page devoted to The Mondo! And please visit our Gallery and Testimonials pages.
Product Reviews
Write Review
Showing reviews 1-4 of 20 | Next
Great exercise post!

Posted by Gayle W. on 13th Feb 2017

Our two Maine Coon mix cats love the Mondo Post! They like to climb it like a tree trunk or sometimes jump to the top platform. One of them will be on the top and the other will climb up playing a "king of the mountain" sort of game. It's hilarious to watch. I love how sturdy it is and easy to put together. Thank you for such a high-quality product!

Purrfect!

Posted by Unknown on 10th Feb 2017

I didn't even get the box totally unpacked yet and I had a cat in there trying out the scratching post! They love it. And it's so well made! Thank you!

Maggie's Marvy Mondo

Posted by Unknown on 7th Feb 2017

Fantastic! Maggie is a large Ragdoll so needed a sturdy tall post and this fills the bill and then some. I had been struggling with her scratching my Seagrass barstools and thankfully the Mondo has stolen her affections! I told her if she saved her allowance she might be able to get another one!

Purrfection

Posted by Barry Heller on 25th Jan 2017

This scratch post is second to none. I challenge you to find a bigger, better, scratch post than this one. This is high quality at its best. No I don't work for the company and yes I give honest reviews. My cat took to it right away. I didn't even have to lure my cat to it. My cat also loved the premium organic cat nip that comes with it. Had to hide it tho because it consumed too much of my cats mind after one round,he he! Another thing I like about it is that I can replace the post after it's worn out. The company sells them. I'm sure that won't be for a long time to come. Here's the deal, you can keep spending money on cheap, small, posts that don't last or you can purchase a good quality post that will last longer then the ones you keep replacing. It's a no brainer. Yours Truly-one happy camper....
Showing reviews 1-4 of 20 | Next
Click here for customer testimonials
Find Similar Products by Category