Product Description
The MONDO!™ - It's Legendary!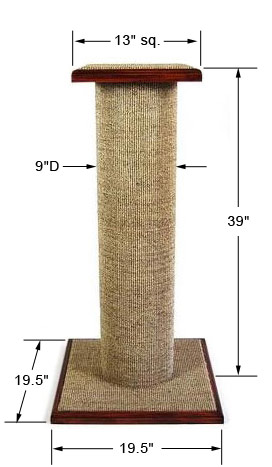 Coveted by Cats & Humans - This is no simple scratching post; this is a Scratching Tower! Cats look at it in awe before they rush to attack it. Humans proclaim, "Wow! That is one serious scratching post."
Tallest Woven Sisal Post Available - The MONDO! Is a whopping 39" tall.
Sturdy & Stable - It's tall, and that means it's even more important for it to be stable. Its double-thick, heavy, wide base ensures that your kitty can attack it with glee and be rewarded with an exhilarating scratching experience.
Top Platform for Perching - Sisal or carpet platform provides a place for your kitty to perch and check out the world.
Impressive & Attractive - This is a Pillar with a Presence. Craftsman-made with handsome wood trim in light or dark stain and high-quality materials so you can be proud to display The Mondo! in your home.
Made in the USA - Individually handcrafted with pride, and delivered directly to you.
Free Premium Catnip - Every order includes our 100% certified organic, super-potent catnip.
Money Back Guarantee - If you or your kitty don't absolutely love it, return it for a refund.
To view product dimensions and color options, click on the the individual thumbnail pictures.
For more information, check out our page devoted to The Mondo! And please visit our Gallery and Testimonials pages.
Product Reviews
Write Review
Showing reviews 1-4 of 16 | Next
THE MONDO IS AWESOME

Posted by Unknown on 1st Dec 2016

This is the ultimate in Kitty Scratching Posts. My kitties love it and took to it right away. I got tired of replacing the little ones that my fur babies would shred to pieces. I love that I can just replace the actual scratcher piece when it finally needs replacing... And, by the look of it, replacement in in the distant future. Thanks so much.

My Cats Love Their Mondo!!

Posted by Unknown on 26th Oct 2016

This product lives up to all of it's claims of being legendary. It's very well made and incredibly solid. It was easy to assemble as well. Both of cats took to it immediately and love it! Thank you.

Great post... Just what I was looking for !

Posted by K. Huffman on 17th Oct 2016

This post is very well made and will last for a long time plus its US made so I'm not worried about all of the chemicals and other unknowns when buying products made in China and other foreign countries.
Its definitely not cheap, but you get what you pay for and this is worth the extra outlay.


Well made

Posted by Patty Alspaugh on 10th Oct 2016

This scratching post is sturdy and larger than I expected. It is very well made, attractive, and made in the USA. However, I cannot seem to get my kitten to use it. He likes rugs. I have tried all the tips provided but he just doesn't prefer the post.
Showing reviews 1-4 of 16 | Next
Click here for customer testimonials
Find Similar Products by Category