Product Description
The MONDO!® - It's Legendary!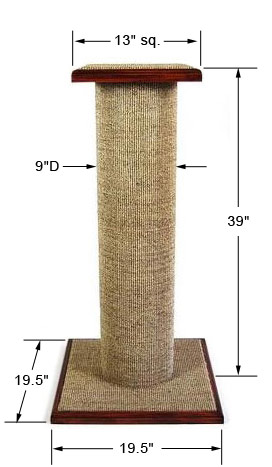 Coveted by Cats & Humans - This is no simple scratching post; this is a Scratching Tower! Cats look at it in awe before they rush to attack it. Humans proclaim, "Wow! That is one serious scratching post."
Tallest Woven Sisal Post Available - The MONDO! Is a whopping 39" tall.
Sturdy & Stable - It's tall, and that means it's even more important for it to be stable. Its double-thick, heavy, wide base ensures that your kitty can attack it with glee and be rewarded with an exhilarating scratching experience.
Top Platform for Perching - Sisal or carpet platform provides a place for your kitty to perch and check out the world.
Impressive & Attractive - This is a Pillar with a Presence. Craftsman-made with handsome wood trim in light or dark stain and high-quality materials so you can be proud to display The Mondo! in your home.
Made in the USA - Individually handcrafted with pride, and delivered directly to you.
Free Premium Catnip - Every order includes our 100% certified organic, super-potent catnip.
Money Back Guarantee - If you or your kitty don't absolutely love it, return it for a refund. details
To view product dimensions and color options, click on the the individual thumbnail pictures.
For more information, check out our page devoted to The Mondo! And please visit our Gallery and Testimonials pages.
Other Details
atc-product:
/da-bird-wand-toy/
atc-product:
/yeowww-stinkies-catnip-sardines-three-with-tin/
atc-product:
/durascoop-cat-litter-scoop-single-assorted/
atc-product:
/enchantacat-catnip-spray/
Product Reviews
Write Review
Showing reviews 1-4 of 57 | Next
Love it

Posted by Linda A on 23rd Mar 2021

My cats love it but I also wish you made a shorter one, please consider! Kind of like a family of scratchers! Also the quality is absolutely gorgeous and SOLID.

Message from Dr Schelling at Purrfect Post:
Thank you for your comments and I am about to Launch the Mini Mondo. I have one by my desk to try and keep my cats off my desk. It works well. We can always do a custom order for you for a shorter one if you like.

My Maine coon kittens have met their match

Posted by Diana Brewsaugh on 5th Mar 2021

This is extremely well-built well thought out sturdy good looking easy to assemble. Recently acquired to Maine coon kittens, knowing they would be big I wanted things that could handle them and my cats fly up these things and scratch away but it looks exactly the same. I purchased a second one for a second Area and they love both of them. I especially love that it's not with typical carpet which I know is a lot less expensive but then it encourages a cat to tear up your carpet and they don't hold up as well this is not your IKEA version of a cat scratcher this is "the" cat scratcher everyone needs

My cat loves it!

Posted by Unknown on 25th Feb 2021

Finally, my chairs are not getting destroyed. My cat loved this from day one. I couldn't set it up fast enough.

The Best

Posted by Jason on 22nd Feb 2021

This is undoubtedly the best cat scratcher on the market today, or at least available in the United States. I'm glad I researched cat scratching posts for months before buying. The thing that could improve is the top board. I think the double sided screw works best on things like this but the Mondo has a single sided screw. Mine did loosen some and I had to turn it. While my other Cat scratching post with the double sided screw is still very tight. Overall, the Mondo s the best there is.
Showing reviews 1-4 of 57 | Next
Click here for customer testimonials
Find Similar Products by Category