Product Description
The MONDO!® - It's Legendary!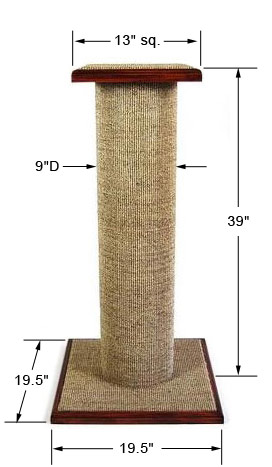 Coveted by Cats & Humans - This is no simple scratching post; this is a Scratching Tower! Cats look at it in awe before they rush to attack it. Humans proclaim, "Wow! That is one serious scratching post."
Tallest Woven Sisal Post Available - The MONDO! Is a whopping 39" tall.
Sturdy & Stable - It's tall, and that means it's even more important for it to be stable. Its double-thick, heavy, wide base ensures that your kitty can attack it with glee and be rewarded with an exhilarating scratching experience.
Top Platform for Perching - Sisal or carpet platform provides a place for your kitty to perch and check out the world.
Impressive & Attractive - This is a Pillar with a Presence. Craftsman-made with handsome wood trim in light or dark stain and high-quality materials so you can be proud to display The Mondo! in your home.
Made in the USA - Individually handcrafted with pride, and delivered directly to you.
Free Premium Catnip - Every order includes our 100% certified organic, super-potent catnip.
Money Back Guarantee - If you or your kitty don't absolutely love it, return it for a refund.
To view product dimensions and color options, click on the the individual thumbnail pictures.
For more information, check out our page devoted to The Mondo! And please visit our Gallery and Testimonials pages.
Other Details
atc-product:
/catn-around-cupcake-catnip-toy/
atc-product:
/catn-around-organic-catnip-heart-toy/
atc-product:
/catnip-felt-hearts-single/
atc-product:
/yeowww-heart-attack-catnip-toy-single/
Product Reviews
Write Review
Previous | Showing reviews 5-8 of 46 | Next
The Mondo proven irresistible by Jinx the Turbo

Posted by Steven Campbell on 22nd Mar 2019

100 percent satisfied with this model. Our feline no longer is compelled to thrash our new leather couch arms. It's a home run!

My cats are in scratcher heaven!

Posted by Jenny on 21st Feb 2019

We have had several scratching posts and pads and this one blows them all away! My cats love that is is tall enough for long stretches and big enough in diameter for them to crawl around it like a tree :) Big plus for us -it's made in the USA!!

Agreed! Best post ever!

Posted by Max on 24th Dec 2018

We've had the Mondo post for six years now. Our huge cat stretches out and uses it daily. A beautiful piece of furniture that holds up wonderfully.

Best scratching post ever!

Posted by Monica on 19th Nov 2018

This is the most solid and well made scratching post I have ever owned. The cats love it. Thanks.
Click here for customer testimonials
Find Similar Products by Category