Product Description
The MONDO!® - It's Legendary!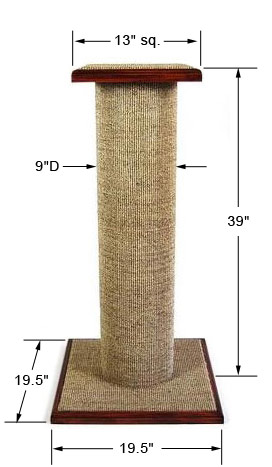 Coveted by Cats & Humans - This is no simple scratching post; this is a Scratching Tower! Cats look at it in awe before they rush to attack it. Humans proclaim, "Wow! That is one serious scratching post."
Tallest Woven Sisal Post Available - The MONDO! Is a whopping 39" tall.
Sturdy & Stable - It's tall, and that means it's even more important for it to be stable. Its double-thick, heavy, wide base ensures that your kitty can attack it with glee and be rewarded with an exhilarating scratching experience.
Top Platform for Perching - Sisal or carpet platform provides a place for your kitty to perch and check out the world.
Impressive & Attractive - This is a Pillar with a Presence. Craftsman-made with handsome wood trim in light or dark stain and high-quality materials so you can be proud to display The Mondo! in your home.
Made in the USA - Individually handcrafted with pride, and delivered directly to you.
Free Premium Catnip - Every order includes our 100% certified organic, super-potent catnip.
Money Back Guarantee - If you or your kitty don't absolutely love it, return it for a refund.
To view product dimensions and color options, click on the the individual thumbnail pictures.
For more information, check out our page devoted to The Mondo! And please visit our Gallery and Testimonials pages.
Other Details
atc-product:
/heart-quilt/
atc-product:
/enchantacat-catnip-spray/
atc-product:
/da-bird-wand-toy/
atc-product:
/purr-fect-paws-cat-litter-mat/
Product Reviews
Write Review
Previous | Showing reviews 9-12 of 40 | Next
Great for the Ladies

Posted by Unknown on 1st Jan 2018

I have a Ragdoll who is 15 lbs and a Tabby who is 8 lbs. Both of the cats are able to stretch up and out with no problem which can be difficult for the Ragdoll on typical cat scratchers. The item is extremely sturdy and well made. Great job Purrfect Post!

Purrrfect for our Copper!

Posted by Liisa & Robert Carbone on 21st Dec 2017

Our three-year old ginger Copper absolutely loves the Mondo, and we love him scratching the Mondo and not our furniture! He's a big, burly boy (14 lbs of sinew and muscle) and he's able to completely stretch up onto the post, with room to spare. Brilliant.

Cat and Owner Approved!

Posted by Lois Thom on 20th Dec 2017

This is the most expensive cat product I've purchased in four decades and I wish I'd found it sooner! I purchased the Mondo for the height, design and materials. Our cat prefers the Mondo over scratching the furniture. Money well spent! We purchased a replacement base for use in place of the top perch. Our cat has no problem climbing onto the top and spends more time now lounging on the perch. It's his favorite place to hang out.

Cat Preferred

Posted by Fifi on 19th Sep 2017

The Mondo Standard is expensive, but cheap in comparison to reupholstering the living room furniture. Our cat Betsy was an incorrigible fabric scratcher. Any time things did not go her way, she leapt into the living room and attacked an armchair here, a couch cushion there. We have an open living room and no way of shutting it off from a cat. When my husband invested in our first Mondo Standard I thought he was nuts to spend so much on a scratching post for a cat that had consistently refused to put paw to scratching pad or post.Though at first completely indifferent to her Mondo post, cat Betsy was persuaded to try it out with a few catnip and cat treat bribes. She now loves her post and, best of all, we have had no more ravaging of upholstery. We just bought our second Mondo Standard and will install one near the newly upholstered dining room chairs.
Click here for customer testimonials
Find Similar Products by Category