Product Description
The MONDO!® - It's Legendary!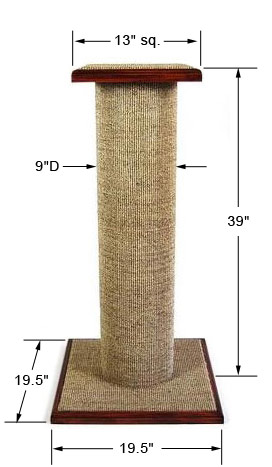 Coveted by Cats & Humans - This is no simple scratching post; this is a Scratching Tower! Cats look at it in awe before they rush to attack it. Humans proclaim, "Wow! That is one serious scratching post."
Tallest Woven Sisal Post Available - The MONDO! Is a whopping 39" tall.
Sturdy & Stable - It's tall, and that means it's even more important for it to be stable. Its double-thick, heavy, wide base ensures that your kitty can attack it with glee and be rewarded with an exhilarating scratching experience.
Top Platform for Perching - Sisal or carpet platform provides a place for your kitty to perch and check out the world.
Impressive & Attractive - This is a Pillar with a Presence. Craftsman-made with handsome wood trim in light or dark stain and high-quality materials so you can be proud to display The Mondo! in your home.
Made in the USA - Individually handcrafted with pride, and delivered directly to you.
Free Premium Catnip - Every order includes our 100% certified organic, super-potent catnip.
Money Back Guarantee - If you or your kitty don't absolutely love it, return it for a refund.
To view product dimensions and color options, click on the the individual thumbnail pictures.
For more information, check out our page devoted to The Mondo! And please visit our Gallery and Testimonials pages.
Other Details
atc-product:
/ratherbee-candy-cane-organic-catnip-toy/
atc-product:
/purrfect-feather-cat-toy-by-vee-enterprises/
atc-product:
/cats-rule-litter-mat/
atc-product:
/holiday-catnip-toy-trio/
Product Reviews
Write Review
Previous | Showing reviews 13-16 of 38 | Next
WOW! Love this post!

Posted by Unknown on 12th Jun 2017

Such a cool looking post! My cats are sooooo happy. Thank you for making such an awesome post. I have never seen anything like it. I think I will have to order more.

Somewhat Disappointed!

Posted by Unknown on 31st May 2017

The appearance of the product is very attractive! We were excited to receive it and hoped our cat would LOVE it; but she is only attracted to it when we rub some of the catnip on it! We are being patient and hope she will soon find it her new best scratching post!!

Message from Dr Schelling at Purrfect Post:
Thank you for your comments. Sometimes it can take a little while for cats to take to their new posts. You might try playing with her with a a wand toy and dragging up the post. I find this works great.
I also have an article you might like on how to get your cat to use the post here https://www.purrfectpost.com/how-to-train-your-cat-or-kitten-to-use-a-scratching-post/.

THE ABSOLUTE BEST

Posted by Joanie Cameron on 25th May 2017

After spending a couple of days researching online for a quality scratching post I decided to purchase the Mondo. Yes it is more expensive than other units out there but I am here to tell you you will not regret spending the extra money when you see how well it is built and how much your cat loves it. There are several sisal rope scratching post products on the market. They look nice but the problem is rope is wrapped horizontally. Cats scratch vertically so the sisal fabric on the Mondo post is exactly what your cat needs to satisfy that scratching urge. Don't waste your money on anything else. You can even purchase replacement parts for this post.

solid post

Posted by Unknown on 23rd May 2017

The post is huge and solid, which our cats love. It was very easy to put together. Our cats like climbing up it and also sitting on the top of it, which kind of makes it look like they are on a display pedestal. haha.
Click here for customer testimonials
Find Similar Products by Category