Product Description
The Purrfect Post is Designed for Cats to Love!
Veterinarian Designed - Cat Approved.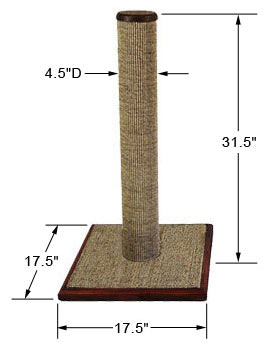 Tall - 31.5 inches tall, so your cat can stretch and achieve a satisfying scratch.
Sturdy - Double-thick, heavy base ensures that this post won't topple over.
Sisal Fabric - Premium sisal fabric covers post and base, so cats can scratch vertically or horizontally. Cats prefer scratching sisal fabric over carpet or sisal rope.
Attractive - Craftsman-made posts that are appealing to both you and your cat. Beautiful wood trims and caps available in light or dark stain.
Made in the USA - High-quality materials and expert construction.
Money Back Guarantee - If your cat doesn't absolutely LOVE this post, you can return it for a refund.
Free Catnip - Premium, 100% organic catnip included with every order.
To view product dimensions and color options, click on the the individual thumbnail pictures.
For more info on this great post, click here.
Check out our Testimonials and Gallery pages filled with satisfied customers.
We have more videos! Click the "Product Videos" tab below to see more videos featuring the Purrfect Post Deluxe!
Product Videos
Purrfect Post Deluxe and Purrfect Angle Combo
02:30
This video shows cats satisfying their natural scratching instincts by playing on the Purrfect Post Deluxe and Purrfect Angle Scratchers. The Purrfect Post Deluxe features long-lasting woven sisal, and the Purrfect Angle's replaceable corrugated cardboard scratching insert allows cats to get the most out of their stretches and scratches.
Purrfect Post ...

This video shows cats satisfying their natural scratching inst...
Product Videos
Other Details
atc-product:
/catn-around-cupcake-catnip-toy/
atc-product:
/catn-around-organic-catnip-heart-toy/
atc-product:
/catnip-felt-hearts-single/
atc-product:
/yeowww-heart-attack-catnip-toy-single/
Product Reviews
Write Review
Previous | Showing reviews 5-8 of 122 | Next
Awesome Scratching Post

Posted by Mary Bryant on 5th Jun 2020

I am very pleased with this scratching
post. It is very well made, heavy duty, and very easy to assemble. I don't have to worry about it toppling over and the finish goes well with my furniture. It's the tallest one I could find so my cat can stretch out completely. The sisal cloth is much better for scratching and doesn't unravel like the rope does. I will probably get a second one for the living room. It shipped alot faster than was promised too. Thank you for a great product. It superseded all my expectations.

Excellent quality post

Posted by Shannon on 3rd Jun 2020

I was looking for a scratching post with a more modern look to it to fit my decor. Having not seen the post in person, and also having cats that historically have not been huge fan of sisal fabric (preferring sisal rope), purchasing this was a bit of a risk. But, the cats took to it immediately, before I could even fully assemble it! It is well made, super sturdy, looks nice, and is a great height so my cats can stretch much more than they can on their other posts. Will definitely be purchasing additional posts in the future!

Beautiful and Functional

Posted by Marco Ciavolino on 27th May 2020

We needed a scratching post for my cat that was joining us in the house we are leasing. I wanted to make sure he didn't scratch any furniture and this seems to be doing the trick. Very nice product!

purrfect post

Posted by gaye taylor on 27th May 2020

this is a great product! It is well made, easy to assemble and lovely to look at. Best of all, Brenda thinks it is terrific. She used it immediately, but was a bit cautious. Now, she OWNS it! I will take a picture of her the next time as she is quite hilarious and has many ways to attack her post. She has a scratching mat in the den which we have trained her to use. Now, when we are in the living room, we invite her to come scratch and voila! over she goes and uses her post. No doubt this has saved our lovely chairs which look pretty inviting!
Click here for customer testimonials
Find Similar Products by Category