Product Description
The Purrfect Post is Designed for Cats to Love!
Veterinarian Designed - Cat Approved.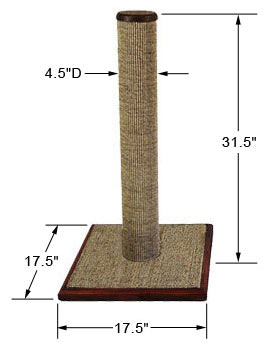 Tall - 31.5 inches tall, so your cat can stretch and achieve a satisfying scratch.
Sturdy - Double-thick, heavy base ensures that this post won't topple over.
Sisal Fabric - Premium sisal fabric covers post and base, so cats can scratch vertically or horizontally. Cats prefer scratching sisal fabric over carpet or sisal rope.
Attractive - Craftsman-made posts that are appealing to both you and your cat. Beautiful wood trims and caps available in light or dark stain.
Made in the USA - High-quality materials and expert construction.
Money Back Guarantee - If your cat doesn't absolutely LOVE this post, you can return it for a refund.
Free Catnip - Premium, 100% organic catnip included with every order.
To view product dimensions and color options, click on the the individual thumbnail pictures.
For more info on this great post, click here.
Check out our Testimonials and Gallery pages filled with satisfied customers.
We have more videos! Click the "Product Videos" tab below to see more videos featuring the Purrfect Post Deluxe!
Product Videos
Purrfect Post Deluxe and Purrfect Angle Combo
02:30
This video shows cats satisfying their natural scratching instincts by playing on the Purrfect Post Deluxe and Purrfect Angle Scratchers. The Purrfect Post Deluxe features long-lasting woven sisal, and the Purrfect Angle's replaceable corrugated cardboard scratching insert allows cats to get the most out of their stretches and scratches.
Purrfect Post ...

This video shows cats satisfying their natural scratching inst...
Product Videos
Other Details
atc-product:
/enchantacat-catnip-spray/
atc-product:
/purr-fect-paws-cat-litter-mat/
atc-product:
https://www.purrfectpost.com/feliway-pheromone-spray/
atc-product:
https://www.purrfectpost.com/catn-around-catnip-heart-pillow-refillable-single-assorted/
Product Reviews
Write Review
Previous | Showing reviews 5-8 of 98 | Next
Cat Purrfect!

Posted by Unknown on 30th Aug 2018

All three of my cats love and use this post daily. No more scratching on furniture. I highly recommend this product to anyone who owns cats.

BEST Scratching Post for Cats

Posted by Lenda Murray-McGill on 11th Aug 2018

Love this scratching Post. CATS love it and stopped scratching the couch. EXCELLENT QUALITY. Beautiful design and color

Saving our sofa

Posted by Susan Charles on 7th Jul 2018

I already had two PurrfectPost Mondos but ... my oldest cat loves to scratch the fronts of my sofa arms. In preparation for getting it recovered with a more cat friendly fabric, I bought the slimmer Deluxe and set it in front of the most scratched sofa arm. After smearing it with the included catnip, my cat has decided he loves it and scratches it frequently! This gave me so much hope that I've just bought the PurrfectPost inclined/horizontal scratcher for a younger cat that loves scratching my big wool rug and the tops of the sofa arms! Not only do my 3 cats love these posts, they really hold up over time with the wonderful sisal fabric covers and sturdy construction.

The best scratching post!

Posted by Mary on 5th Jun 2018

This is a solid and easy to assemble scratching post that my cats love to use and that saves the furniture.
Click here for customer testimonials
Find Similar Products by Category