Product Description
The Purrfect Post is Designed for Cats to Love!
Veterinarian Designed - Cat Approved.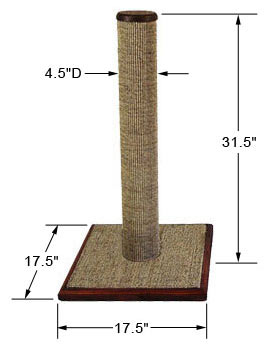 Tall - 31.5 inches tall, so your cat can stretch and achieve a satisfying scratch.
Sturdy - Double-thick, heavy base ensures that this post won't topple over.
Sisal Fabric - Premium sisal fabric covers post and base, so cats can scratch vertically or horizontally. Cats prefer scratching sisal fabric over carpet or sisal rope.
Attractive - Craftsman-made posts that are appealing to both you and your cat. Beautiful wood trims and caps available in light or dark stain.
Made in the USA - High-quality materials and expert construction.
Money Back Guarantee - If your cat doesn't absolutely LOVE this post, you can return it for a refund.
Free Catnip - Premium, 100% organic catnip included with every order.
To view product dimensions and color options, click on the the individual thumbnail pictures.
For more info on this great post, click here.
Check out our Testimonials and Gallery pages filled with satisfied customers.
We have more videos! Click the "Product Videos" tab below to see more videos featuring the Purrfect Post Deluxe!
Product Videos
Purrfect Post Deluxe and Purrfect Angle Combo
02:30
This video shows cats satisfying their natural scratching instincts by playing on the Purrfect Post Deluxe and Purrfect Angle Scratchers. The Purrfect Post Deluxe features long-lasting woven sisal, and the Purrfect Angle's replaceable corrugated cardboard scratching insert allows cats to get the most out of their stretches and scratches.
Purrfect Post ...

This video shows cats satisfying their natural scratching inst...
Product Videos
Product Reviews
Write Review
Previous | Showing reviews 5-8 of 60 | Next
Great Product

Posted by Denise P. McKee on 10th Jan 2017

My cat loves this scratching post. It is extremely sturdy and it blends well with my decor unlike most scratching posts you can buy in the pet store

Best present under the tree

Posted by Tracey Taylor on 9th Jan 2017

My daughter and son in law have 2 cats and "Rudolph" always gives them a xmas gift each year.
They just bought a new house and the cats seemed to think the plush carpets were just big scratching posts and they were doing damage.
There old scratching post was well worn (the carpeted kind) and so they needed a new one.
They are big cats so my goal was to find a quality post that wouldn't tip over when they scratched and that was tall enough for them to fully extend on.
I did a lot of research and really thought this would be a great post for them, the shipping costs almost stopped me from purchasing it (Live in Canada...so very expensive to ship).
But I kept reading reviews from other sites of other posts and finally decided to bite the bullet and ordered it.
When it arrived I realized two things...one that it was packaged really well and two that it is very heavy...af good thing for the cats, so the shipping price was justified.
Then I had to wait an agonizing long time for xmas to get here...so worried if my grandcats would like their new post (really expensive if they wouldn't scratch it).
Somehow they seemed to know this was their gift, as they would lay on the wrapped package for under the tree for the weeks leading up to xmas (Probably could smell the catnip included...but I prefer to believe it was xmas magic).
Well...finally xmas day arrived and it was the BEST gift under the tree I think.
As soon as it was together they were both clawing at it and enjoying it!!! All my worries that they wouldn't like the texture were gone...I wasn't sure since all their previous posts had been carpeted.
I was so happy...my daughter and son in law were thrilled to death and the cats loved on that post all day long and we all laughed a lot watching (later realized we didn't take pics...too fun watching them).
We did not use the catnip as one of their cats reacts badly to it. Didn't need it!!
My only regret is that I didn't pay the extra to get the one with the platform...I was worried that with the height...it would tip if they tied jumping up there...with the construction and weight of the post...it wouldn't be a problem I'm now sure.

Ignore the shipping cost...well made product and because of the weight (which comes from the quality) the shipping didn't feel "jacked up" once I received the post.

Me and my grandcats would recommend this in a heart beat and 2 of my daughters friends with cats have already asked where I bought it.

Cats love it.

Posted by James Winchester on 5th Jan 2017

We have four kitties and had several inexpensive scratching posts. Ugly and not tall. We wanted a more attractive, furniture quality post, and these are excellent and kitties love them, so, buy with confidence that you get what you pay for.

Princess LOVES it!!!

Posted by Amber on 3rd Jan 2017

My cat Princess wakes up every morning and eagerly goes
to her purrfectpost first thing!!!! Thank You for such a
Wonderful Product!!!!!!! Worth every penny : ) So glad
I googled Best Cat Scratching Post!
Click here for customer testimonials
Find Similar Products by Category