Product Description
The Purrfect Post is Designed for Cats to Love!
Veterinarian Designed - Cat Approved.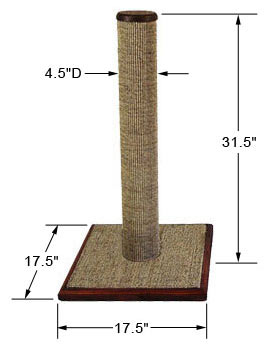 Tall - 31.5 inches tall, so your cat can stretch and achieve a satisfying scratch.
Sturdy - Double-thick, heavy base ensures that this post won't topple over.
Sisal Fabric - Premium sisal fabric covers post and base, so cats can scratch vertically or horizontally. Cats prefer scratching sisal fabric over carpet or sisal rope.
Attractive - Craftsman-made posts that are appealing to both you and your cat. Beautiful wood trims and caps available in light or dark stain.
Made in the USA - High-quality materials and expert construction.
Money Back Guarantee - If your cat doesn't absolutely LOVE this post, you can return it for a refund.
Free Catnip - Premium, 100% organic catnip included with every order.
To view product dimensions and color options, click on the the individual thumbnail pictures.
For more info on this great post, click here.
Check out our Testimonials and Gallery pages filled with satisfied customers.
We have more videos! Click the "Product Videos" tab below to see more videos featuring the Purrfect Post Deluxe!
Product Videos
Purrfect Post Deluxe and Purrfect Angle Combo
02:30
This video shows cats satisfying their natural scratching instincts by playing on the Purrfect Post Deluxe and Purrfect Angle Scratchers. The Purrfect Post Deluxe features long-lasting woven sisal, and the Purrfect Angle's replaceable corrugated cardboard scratching insert allows cats to get the most out of their stretches and scratches.
Purrfect Post ...

This video shows cats satisfying their natural scratching inst...
Product Videos
Product Reviews
Write Review
Previous | Showing reviews 13-16 of 89 | Next
High Quality Product

Posted by Unknown on 30th Aug 2017

Cat scratching post is definitely the highest quality post on the market. Very solid. High quality wood. Very tall, but very stable. Heavy and large, but that accounts for the products stability. Took a while for my cats to use it, but they are beginning to warm up to it and use it. You will pay more for this product, but if you want the best quality, it is well worth it. I was not disappointed and was very pleased with this product. Packaging and shipping was great and there was no damage to the box or product. Received the product quickly.

Awesome Post

Posted by Cindy on 10th Aug 2017

This is our second purrfect post. Our two cats wore the other one out after 8 years but used it all day long. Our boy is big so he can get the full stretch. He also likes to show off his skills by balancing all four paws on the very top of the post. I emailed a picture yesterday.

I was hesitant, but it really is Purrfect

Posted by J Meyer on 6th Aug 2017

I was very hesitant to purchase this scratching post after several failed purchases and what I thought would be another overpriced living room ornament. My cats are so picky, but I was desperate to save my new couch from becoming another casualty in pet ownership. I must say, after five months, my couch is still in excellent condition and the two furrballs use the post more than ever. It took almost zero training to get my adult cats to use the post. When it arrived, I threw a little catnip on it that was included in my package and that was it! I would recommend this product to any cat parent. It's a lifesaver and it actually looks nice unlike most of the pet store versions I've tried.

Theverybest

Posted by Susan Page on 2nd Aug 2017

My cat Abby, who adopted us 5years ago,has finally shredded completely a woven magazine basket she was using as a scratch post . I bought her the Purrfect Post. It is tall enough to entertain her quite a while. The base is heavy and sturdy and will not topple over. I haven't yet gotten a photo of her using it, because she never uses it if I am in the room and have my phone/camera with me. But she will sit on the bed and all of a sudden jump down to the post. She ceremoniously puts her front paws on the post and scratches. The she will lie down, when I am not paying attention to her,and put all four paws on the post and rapidly scratch. The post makes her happy, Sonia am happy too.
Click here for customer testimonials
Find Similar Products by Category