Purrfect Angle Replacement Pad - 2 Pack
Product Description
Replacement pad for Purrfect Angle scratcher. This product comes in a pack of two corrugated cardboard inserts that fit the coveted Purrfect Angle scratcher.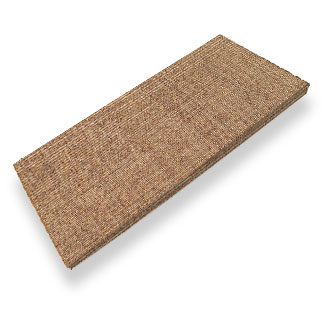 Each Purrfect Angle pad is 19" x 8½" x 1", and is designed to fit the Purrfect Angle scratcher; however, this pad works excellently as a horizontal scratching surface, placed directly on the floor. Tip: Hide one or two of these pads around the house for your cat to discover, and be amazed.
Also available...
Click here for the sisal angle replacement pad — available in regular or Sophisticat™.
Product Videos
Purrfect Angle Cat Scratcher
02:54
Cats shown testing the Purrfect Angle cat scratcher. The Purrfect Angle gives cats the freedom to stretch in many comfortable ways as they satisfy their natural scratching instinct, and can be found at purrfectpost.com.
Purrfect Angle...

Cats shown testing the Purrfect Angle cat scratcher. The Purr...
Product Videos
Product Reviews
Write Review
Previous | Showing reviews 9-12 of 13 | Next
Consistent user

Posted by Unknown on 30th Nov 2016

My cat goes through 2 of these per year, for the last 4 years. She consistently uses this, as compared to other scratchers, including vertical, incline, horizontal, carpet, sisal, etc. The base is easy to mend when it loosens or cracks.

Satisfaction Purrfect

Posted by R.L. Weikart on 5th Oct 2016

1. Response from web site was quick and accurate 2. Product was exactly what I needed. 3. Delivery was made in record time. As a customer I would not hesitate to recommend your products and service to anyone.

Happy Cats, Furniture Intact

Posted by Unknown on 5th Oct 2016

These angled scratchers (+ the Post) have been the answer to saving the furniture and making the cats happy. They are stable and the right size/angle for scratching. Used energetically by all three cats many times a day. Highly recommend. Long-time user.

Purrr-fect scratch

Posted by Ray on 12th Sep 2016

It took months for my cat to decide the angled scratcher was OK. Now it's her favorite. She finally worked her way through both sides of the original so I got these replacements. This is the same type that came with the scratcher. I decided to stay with what she enjoys rather than trying to re train her to the other version.
These are identical, she loves it, and it should last a few years.
Click here for customer testimonials
Find Similar Products by Category