Purrfect Angle Replacement Pad - 2 Pack
Purrfect Angle Replacement Pad - 2 Pack
Enter your email address to be notified
when this item is back in stock
Product Description
Replacement pad for Purrfect Angle scratcher. This product comes in a pack of two corrugated cardboard inserts that fit the coveted Purrfect Angle scratcher.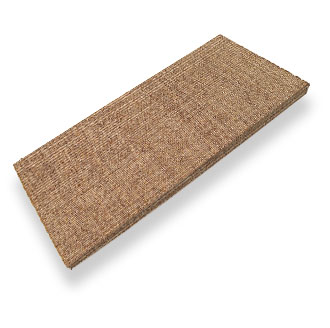 Each Purrfect Angle pad is 19" x 8½" x 1", and is designed to fit the Purrfect Angle scratcher; however, this pad works excellently as a horizontal scratching surface, placed directly on the floor. Tip: Hide one or two of these pads around the house for your cat to discover, and be amazed.
Also available...
Click here for the sisal angle replacement pad — available in regular or Sophisticat™.
Product Videos
Purrfect Angle Cat Scratcher
02:54
Cats shown testing the Purrfect Angle cat scratcher. The Purrfect Angle gives cats the freedom to stretch in many comfortable ways as they satisfy their natural scratching instinct, and can be found at purrfectpost.com.
Purrfect Angle...

Cats shown testing the Purrfect Angle cat scratcher. The Purr...
Product Videos
Other Details
atc-product:
/da-bird-wand-toy/
atc-product:
/el-gato-muy-loco-catnip-cigar/
atc-product:
/cats-rule-litter-mat/
atc-product:
/durascoop-cat-litter-scoop-single-assorted/
Product Reviews
Write Review
Previous | Showing reviews 5-8 of 14 | Next
Instant love

Posted by Unknown on 27th May 2017

My older girl prefer cardboard to sisal and the minute I put this one down, she was on it and scratching away happily. She seems to prefer this one to her old cardboard scratcher, and I'm happy that the angled scratcher is finally being used :D

Excellent Scratching pad

Posted by Unknown on 7th Feb 2017

I purchased the angle scratcher years ago and my 2 bengal cats finally used up the original scratch pads, so I needed a replacement. As soon as I put it out they were scratching it. Since it comes in a two pack, I put the second one just flat on the carpet and my cat , who sometimes still scratches the carpet, immediately started using the scratch pad. It's been 3 days and he has only used the scratch pad! He also likes laying on it. This is great!!

Couldn't be better!

Posted by Unknown on 18th Jan 2017

I am a very particular in what I buy. Items must measure up to claims made. This product exceeds expectations! Not only does my cat LOVE it, it stays intact (no cardboard droppings like many others on the market).

Good replacement

Posted by Althea on 4th Jan 2017

Good to be able to replace these. Bought to keep as replacement so never out while waiting for new order.
Click here for customer testimonials
Find Similar Products by Category