Purrfect Angle Replacement Pad - 2 Pack
Purrfect Angle Replacement Pad - 2 Pack
Enter your email address to be notified
when this item is back in stock
Product Description
Replacement pad for Purrfect Angle scratcher. This product comes in a pack of two corrugated cardboard inserts that fit the coveted Purrfect Angle scratcher.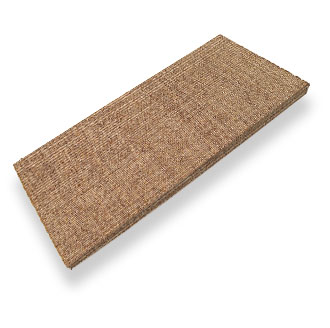 Each Purrfect Angle pad is 19" x 8½" x 1", and is designed to fit the Purrfect Angle scratcher; however, this pad works excellently as a horizontal scratching surface, placed directly on the floor. Tip: Hide one or two of these pads around the house for your cat to discover, and be amazed.
Also available...
Click here for the sisal angle replacement pad — available in regular or Sophisticat™.
Product Videos
Purrfect Angle Cat Scratcher
02:54
Cats shown testing the Purrfect Angle cat scratcher. The Purrfect Angle gives cats the freedom to stretch in many comfortable ways as they satisfy their natural scratching instinct, and can be found at purrfectpost.com.
Purrfect Angle...

Cats shown testing the Purrfect Angle cat scratcher. The Purr...
Product Videos
Other Details
atc-product:
/enchantacat-catnip-spray/
atc-product:
/el-gato-muy-loco-catnip-cigar/
atc-product:
/catn-around-unicorn-catnip-toy/
atc-product:
/durascoop-cat-litter-scoop-single-assorted/
Product Reviews
Write Review
Previous | Showing reviews 13-14 of 14
Purrr-fect scratch

Posted by Ray on 12th Sep 2016

It took months for my cat to decide the angled scratcher was OK. Now it's her favorite. She finally worked her way through both sides of the original so I got these replacements. This is the same type that came with the scratcher. I decided to stay with what she enjoys rather than trying to re train her to the other version.
These are identical, she loves it, and it should last a few years.

My Cat LOVES to Shred!

Posted by Benjamin on 31st Mar 2016

Cats love to shred things... now I've got something my cat is SUPPOSED TO SHRED!
I love watching my cat dig into the Purrfect Angle and really dig his claws into this heavy-duty corrugated cardboard. After about 6 months of shredding, I swapped the insert out for a new one, and stashed the used one in the corner of the house to recycle... Nope! Every once in a while I hear shredding coming from the corner of the house. He loves to discover it places, so I just keep stashing a cardboard angle insert in secret places... He goes kitty-nuts when he finds them!
Previous | Showing reviews 13-14 of 14
Click here for customer testimonials
Find Similar Products by Category