Product Description
The Purrfect Angle's Unique Design Provides Variety & Satisfaction.
Allows your cat to scratch horizontally, at an upright angle, or at a downward angle - A definite kitty yoga prop. Cats love to stretch and scratch in different positions.
Original & Sophisticat Sisal options now available!
Dense, corrugated insert provides an alternative scratching material - Your cat will appreciate the variety and quality of this oh-so-enjoyable surface to scratch and shred.
Sturdy - Unlike flimsy cardboard scratchers that slip, are too small, or flip over, this well-built scratcher supports kitties of all sizes. The need for a good, hearty scratch can be fulfilled to your cat's maximum satisfaction.
Flat or angled - Removable rear leg allows Purrfect Angle to lie flat. Great alternative for cats that scratch carpet. Tip: If your cat is an under-the-bed scratcher, buy an extra insert, and stick it under there for your kitty to discover.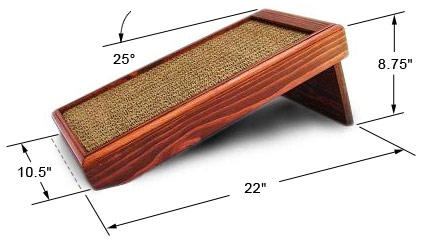 Compact - Can be placed in smaller or shorter areas where a scratching post won't fit.
Sleek, attractive design - Solid wood frame in your choice of light or dark stain is an elegant addition to your home.
Free Catnip - Premium, 100% organic catnip included with every order.
You requested, we provided - Inserts are now available in sisal material. That's right, the same tough, cat-satisfying sisal material that covers our other Purrfect Post products is now available as an option for your Purrfect Angle insert. Available in original and Sophisticat colors. Consider keeping both sisal and corrugated cardboard inserts on hand for maximum scratching variety.
Money Back Guarantee - Love it, or return it.
For more information about this ingenious scratcher, click here.
Check out our Testimonials and Gallery pages filled with satisfied customers.
We have more videos! Click the "Product Videos" tab below to see more videos featuring the Purrfect Angle!
Product Videos
Purrfect View and Purrfect Angle Combo
02:07
With the Purrfect View and Purrfect Angle combination, the variety of scratching surfaces will spice up the life of your kitties Whether snuggling up in the bed or platform, or using the inclined, vertical or horizontal scratching surfaces, your cats will surely be satisfied. Check out the View and Angle combo at purrfectpost.com.
Purrfect View ...

With the Purrfect View and Purrfect Angle combination, the var...

Purrfect Post ...

This video shows cats satisfying their natural scratching inst...
Other Details
atc-product:
/el-gato-muy-loco-catnip-cigar/
atc-product:
/honeysuckle-funky-mouse-single-assorted/
atc-product:
/catn-around-unicorn-catnip-toy/
atc-product:
https://www.purrfectpost.com/catn-around-catnip-heart-pillow-refillable-single-assorted/
Product Reviews
Write Review
Previous | Showing reviews 13-16 of 22 | Next
Sturdy, Rugged and Gorgeous

Posted by Dianne Zink on 10th Nov 2016


I just received my scratching posts from Purrfect Posts; the Purrfect Post Deluxe, the Mondo Deluxe, the Purrfect View Everest Edition and the Purrfect Angle. Yes, I bought all of them based on the exceptional reviews I read. I also had several questions to be answered before I completed my order and contacted Dr. Schelling who called me and made sure every question was answered. She spent a great deal of time on the phone with me. I felt completely confident that her products were as advertised and did not hesitate to order them. My husband was extremely impressed with the craftsmanship and ease of assembly. He does not impress easily. All of the posts are of superior quality and very, very stable. Compare them to your local pet stores inventory of scratching posts and you will understand and appreciate why these posts are more expensive. When the posts have been used to their full potential, you can replace the parts that need to be replaced without throwing the entire post out and buying an entirely new post. When you consider that, these posts are well worth their initial cost.
We now await our two ragdoll kitties who will be part of our family in about a month from now. Ragdolls grow to be very large cats and these posts, especially the Everest and Mondo Deluxe, are very tall and the cats will be able to stretch completely which cats need to be able to do.
The posts are not only well made but gorgeous. I was looking for scratching posts that would look like part of my room decor and appeal to the human eye and look like a playground and great place to exercise to the cats so that they can do what cats do and need to do and also have a comfortable place to rest.
After my boys arrive and have had some time to enjoy their posts, I will write a review and let you know what THEY "think".

my cats adore this

Posted by Unknown on 11th Oct 2016

my cats love their new scratchers so so much, they scratch long and hard and often, claw sheaths flying off everywhere. wish i had bought this years ago worth every penny

They love it!

Posted by Unknown on 3rd Oct 2016

Excellent construction. My two girls love this angle. One or the other "claims" it every night--I can already see we likely will need a second angle.

Good Product but required repair

Posted by Denise McKee on 22nd Sep 2016

This is the second perfect angle I have purchased and it is a great product. This product arrived with one of the corners coming apart because the nail was no longer holding it together. It is not damaged, but it does need to be nailed back togehter. I am very busy and it is a hassle to return it, so I will just have my father fix it when he is in town, but it is inconvenient.

Note from Purrfect Post:
Please contact us so we can rectify this situation for you. Your post should be absolutely PURRFECT!
Click here for customer testimonials
Find Similar Products by Category