Purrfect Angle Replacement Pad - 2 Pack
Purrfect Angle Replacement Pad - 2 Pack
Enter your email address to be notified
when this item is back in stock
Product Description
Replacement pad for Purrfect Angle scratcher. This product comes in a pack of two corrugated cardboard inserts that fit the coveted Purrfect Angle scratcher.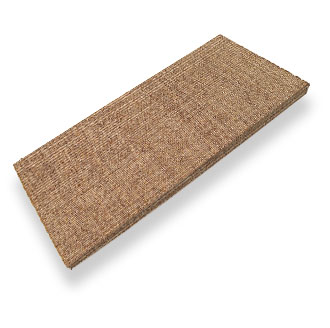 Each Purrfect Angle pad is 19" x 8½" x 1", and is designed to fit the Purrfect Angle scratcher; however, this pad works excellently as a horizontal scratching surface, placed directly on the floor. Tip: Hide one or two of these pads around the house for your cat to discover, and be amazed.
Also available...
Click here for the sisal angle replacement pad — available in regular or Sophisticat™.
Product Videos
Purrfect Angle Cat Scratcher
02:54
Cats shown testing the Purrfect Angle cat scratcher. The Purrfect Angle gives cats the freedom to stretch in many comfortable ways as they satisfy their natural scratching instinct, and can be found at purrfectpost.com.
Purrfect Angle...

Cats shown testing the Purrfect Angle cat scratcher. The Purr...
Product Videos
Other Details
atc-product:
/enchantacat-catnip-spray/
atc-product:
/el-gato-muy-loco-catnip-cigar/
atc-product:
/catn-around-unicorn-catnip-toy/
atc-product:
/durascoop-cat-litter-scoop-single-assorted/
Product Reviews
Write Review
Showing reviews 1-4 of 20 | Next
He uses it!

Posted by Cam Fraer on 27th Jun 2020

These are great! I had several of the posts from our last cat, but turns out our new cat is a horizontal scratcher (think standing on the back or arm of couch). Not interested in the posts at all. I bought the angled scratcher and found he'd only use it if it was laying flat on the ground, but that he loved scratching the cardboard. So i ordered more of the replacement inserts and put them around the house. Works perfectly! He much prefers them to the furniture.

He uses it!

Posted by Cameron Fraer on 10th Jun 2020

Adopted a new cat and all the scratching posts from our old guy were the upright kind, and new guy wasn't nuts even about the flat 'stand' part of them. He likes to be completely horizontal when he scratches (read standing on the arm of a chair for instance). I decided to try the purrfect angle with the corrugated insert (left the piece that holds it at an angle off, so it's flat on the floor) and he loves it. Leaves the furniture completely alone. Yay and thanks!

Repeat customer, my cats love them

Posted by Jennifer V on 28th May 2020

The Purrfect Angle is a huge hit in our house and I have ordered the replacement pads several times. They are very well made, can take a lot of scratching (I have six cats,) and I love that they are reversible. With this recent order I installed one and they were very happy to have a new pad but I accidentally left the second new pad up against a wall instead of putting it away.Within an hour one of the cats found it, knocked in over and started using it without the frame. Now I have one in the frame and one laying loose in the other room, they couldn't be happier! Even without the frame they are drawn to this construction of cardboard. During play time we sprinkle catnip on the scratcher for a bit more fun and they go crazy.
We also have the Mondo and I will say that NONE of my six cats scratches any of the furniture because they have better places to scratch!

Popular Item

Posted by Kithara on 27th Jan 2020

The scratching pads are a bit hit with my posse. I've been placing the cardboard pads on the floor in favorite hangout spots--under the dining room table, beneath the chair in the foyer, etc. The incline is well used as well.
Showing reviews 1-4 of 20 | Next
Click here for customer testimonials
Find Similar Products by Category