Purrfect Angle Replacement Pad - 2 Pack
Purrfect Angle Replacement Pad - 2 Pack
Enter your email address to be notified
when this item is back in stock
Product Description
Replacement pad for Purrfect Angle scratcher. This product comes in a pack of two corrugated cardboard inserts that fit the coveted Purrfect Angle scratcher.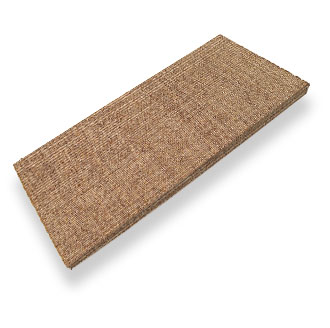 Each Purrfect Angle pad is 19" x 8½" x 1", and is designed to fit the Purrfect Angle scratcher; however, this pad works excellently as a horizontal scratching surface, placed directly on the floor. Tip: Hide one or two of these pads around the house for your cat to discover, and be amazed.
Also available...
Click here for the sisal angle replacement pad — available in regular or Contemporary Gray.
Product Videos
Purrfect Angle Cat Scratcher
02:54
Cats shown testing the Purrfect Angle cat scratcher. The Purrfect Angle gives cats the freedom to stretch in many comfortable ways as they satisfy their natural scratching instinct, and can be found at purrfectpost.com.
Purrfect Angle...

Cats shown testing the Purrfect Angle cat scratcher. The Purr...
Product Videos
Other Details
atc-product:
/yeowww-butterfly/
atc-product:
/el-gato-muy-loco-catnip-cigar/
atc-product:
/honeysuckle-large-body-pillow-single-assorted/
atc-product:
/happy-hedgehog-refillable-catnip-toy/
Product Reviews
Write Review
Showing reviews 1-4 of 22 | Next
Great even on their own.

Posted by Allena on 27th Nov 2020

These are great all on their own for tossing under desks where you are trying to protect your carpet. I also found they are great under the chair my cat likes to scratch the bottom on.

Also, these are a great value because they are double sided. Much better quality than the cardboard scratchers in stores.

Jacob loves it

Posted by Bob on 7th Oct 2020

Our cat loves it. I put a little catnip on it and he tears it up. Glad it is two sided.

He uses it!

Posted by Cam Fraer on 27th Jun 2020

These are great! I had several of the posts from our last cat, but turns out our new cat is a horizontal scratcher (think standing on the back or arm of couch). Not interested in the posts at all. I bought the angled scratcher and found he'd only use it if it was laying flat on the ground, but that he loved scratching the cardboard. So i ordered more of the replacement inserts and put them around the house. Works perfectly! He much prefers them to the furniture.

He uses it!

Posted by Cameron Fraer on 10th Jun 2020

Adopted a new cat and all the scratching posts from our old guy were the upright kind, and new guy wasn't nuts even about the flat 'stand' part of them. He likes to be completely horizontal when he scratches (read standing on the arm of a chair for instance). I decided to try the purrfect angle with the corrugated insert (left the piece that holds it at an angle off, so it's flat on the floor) and he loves it. Leaves the furniture completely alone. Yay and thanks!
Showing reviews 1-4 of 22 | Next
Click here for customer testimonials
Find Similar Products by Category