Product Description
The Purrfect Angle's Unique Design Provides Variety & Satisfaction.
Allows your cat to scratch horizontally, at an upright angle, or at a downward angle - A definite kitty yoga prop. Cats love to stretch and scratch in different positions.
Original & Sophisticat Sisal options now available!
Dense, corrugated insert provides an alternative scratching material - Your cat will appreciate the variety and quality of this oh-so-enjoyable surface to scratch and shred.
Sturdy - Unlike flimsy cardboard scratchers that slip, are too small, or flip over, this well-built scratcher supports kitties of all sizes. The need for a good, hearty scratch can be fulfilled to your cat's maximum satisfaction.
Flat or angled - Removable rear leg allows Purrfect Angle to lie flat. Great alternative for cats that scratch carpet. Tip: If your cat is an under-the-bed scratcher, buy an extra insert, and stick it under there for your kitty to discover.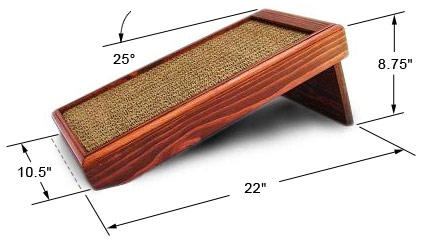 Compact - Can be placed in smaller or shorter areas where a scratching post won't fit.
Sleek, attractive design - Solid wood frame in your choice of light or dark stain is an elegant addition to your home.
Free Catnip - Premium, 100% organic catnip included with every order.
You requested, we provided - Inserts are now available in sisal material. That's right, the same tough, cat-satisfying sisal material that covers our other Purrfect Post products is now available as an option for your Purrfect Angle insert. Available in original and Sophisticat colors. Consider keeping both sisal and corrugated cardboard inserts on hand for maximum scratching variety.
Money Back Guarantee - Love it, or return it.
For more information about this ingenious scratcher, click here.
Check out our Testimonials and Gallery pages filled with satisfied customers.
We have more videos! Click the "Product Videos" tab below to see more videos featuring the Purrfect Angle!
Product Videos
Purrfect View and Purrfect Angle Combo
02:07
With the Purrfect View and Purrfect Angle combination, the variety of scratching surfaces will spice up the life of your kitties Whether snuggling up in the bed or platform, or using the inclined, vertical or horizontal scratching surfaces, your cats will surely be satisfied. Check out the View and Angle combo at purrfectpost.com.
Purrfect View ...

With the Purrfect View and Purrfect Angle combination, the var...

Purrfect Post ...

This video shows cats satisfying their natural scratching inst...
Other Details
atc-product:
/el-gato-muy-loco-catnip-cigar/
atc-product:
/honeysuckle-funky-mouse-single-assorted/
atc-product:
/catn-around-unicorn-catnip-toy/
atc-product:
https://www.purrfectpost.com/catn-around-catnip-heart-pillow-refillable-single-assorted/
Product Reviews
Write Review
Previous | Showing reviews 9-12 of 25 | Next
Well built, but the cats do not care

Posted by Susan Mezger on 30th Aug 2017

I was hoping this might appeal to my cats more than a scratching post- since they don't particularly like the post we bought and they seem to love scratching our furniture. They never glanced twice at this ramp version. I placed it in the center of several rooms- to no avail. I don't know if our cats are weird or if the ramp just doesn't work, but it was an expensive total flop.

Message from Dr Schelling at Purrfect Post:
Thank you for taking the time to post this review. Some cats prefer to scratch vertical, verses horizontal or angled surfaces, but we often find that there are other factors involved with regards to cats using furniture instead of their scratching posts. Most cats love to have multiple scratching surfaces. Here is an article that might be helpful and remember that you can always return your Angle for a refund or an exchange. https://www.purrfectpost.com/how-to-train-your-cat-or-kitten-to-use-a-scratching-post/ and https://www.purrfectpost.com/train-your-cat-to-stop-scratching-your-couch-in-7-days-or-less/ provide a lot of information on training cats to use a post instead of their couch.
And I noticed your reference to them not wanting to scratch the other post you had previously obtained for them, but it appears that is not one of our posts. So maybe it is the type of post? Here is an article on what to look for in a cat scratching post. https://www.purrfectpost.com/how-to-choose-the-best-cat-scratching-post/. Let us know how we can help. We strive to ensure all of our customers are happy.


My cats love it!

Posted by Amy on 26th Jul 2017

My cats are currently 15 and nearly 16. They have always had their claws.

We've actually had this for many years! It's still fully in use, and I recently bought a sisal insert to replace the cardboard, since those are rather messy. My youngest cat enjoys it more so than the older one, but she puts it to good use every morning and night.

It looks like real furniture and is solidly built. The piece that holds it up can be easily removed to lay it flat as well.

Purrfect Angle vs. Declawing

Posted by Luanne on 29th Jun 2017

All of my cats in the past have been declawed and indoor cats only, but they can be clever escape artists. So when Ghost was laid to rest and we were adopting Mae, we had a decision to make. Declawing is looked down upon, but we shouldn't have to sacrifice our furniture for a pet's natural instinct. Mae hasn't quite accomplished using the proper piece of furniture all the time, but she's learning. Just put some catnip (was supplied) on the sisal and it helps to entice your feline friend. Even though Mae is young, I chose the Purrfect Angle because I think it will be easier for her to use if she should develop arthritis as she ages. It is also a nice piece of furniture in itself. It was simple to assemble, and I like that all parts can be replaced if need be. Mae gives it her paw of approval and highly recommends it.

Purrfect Angle scratch post

Posted by Unknown on 12th May 2017

Amazed to see that the scratch post has diverted the attention of my cats from scratching the sofas! They loved the fresh catnip too. The back support of the product could be a little sturdier as it does wobble (on a wood floor), but I placed a heavy object against it and under the post which has made the post less movable. Our four cats love it!
Click here for customer testimonials
Find Similar Products by Category