Product Description
The Purrfect View has been re-designed with an extra tall and extra wide post for even more scratching and stretching room.
The Purrfect View is constructed with durability, usability and stability in mind. It has two comfy platforms covered in stunning premium grade leopard carpet that are purrfect for kitty to lounge on and survey his or her surroundings (a favorite feline pastime). The uppermost platform was designed specifically to allow kitty to be at a height to look out a window. The sisal scratching surfaces on The Purrfect View provide kitty with multiple angles and areas to scratch and stretch.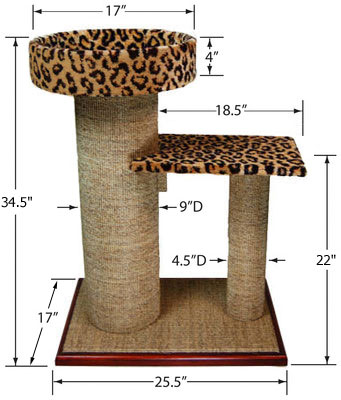 *Fact: Sisal is a natural material (derived from the Agave plant of Yucatan) whose strength far exceeds that of cotton or wool. Cats prefer it even to sisal rope because of the uninterrupted, smooth scratching texture.
Product Facts:
Individually Hand-Made in the USA
Available in light stain
Double-thick base for extra stability
Extra tall and extra wide post for scratching
Two perching areas for playing, snoozing and surveying terrain
The upper most platform is the perfect height for window gazing.
Scratching material is sisal fabric - a favorite for cats
Developed by a veterinarian
To view product dimensions and color options, click on the the individual thumbnail pictures.
Click here for more information about The Purrfect View.

You can make this snuggly cat bed even cozier by adding one of our individually handmade, incredibly soft and cuddly Muffin Blankets™ to your order. It will help keep your product's bed free of cat hair, and your cat will love how soft and warm it is. At 15" in diameter, the small size fits flush in the bottom of the bed, and at 22" in diameter, the large size drapes up the sides and over the top a bit. With two sizes and three color combinations available for this reversible blanket, you can customize your Purrfect Post product to your home even more.
We have more videos! Click the "Product Videos" tab below to see more videos featuring the Purrfect View!
Product Videos
Purrfect View and Purrfect Angle Combo
02:07
With the Purrfect View and Purrfect Angle combination, the variety of scratching surfaces will spice up the life of your kitties Whether snuggling up in the bed or platform, or using the inclined, vertical or horizontal scratching surfaces, your cats will surely be satisfied. Check out the View and Angle combo at purrfectpost.com.
Purrfect View ...

With the Purrfect View and Purrfect Angle combination, the var...
Product Videos
Other Details
atc-product:
/da-bird-wand-toy/
atc-product:
/muffin-blanket/
atc-product:
/purr-fect-paws-cat-litter-mat/
atc-product:
/durascoop-cat-litter-scoop-single-assorted/
Product Reviews
Write Review
Previous | Showing reviews 9-12 of 40 | Next
Happy, Happy Milo!

Posted by Dee S. on 18th Mar 2017

Recently purchased the "Perfect View" for my large Ragdoll, Milo. As soon as it was put together (10 minutes tops), he was on it and he had the most happiest look on his face! He stayed in the bed for at least 3 hours! He's my only cat and he's in it every day. I finally took the plunge for Milo who is 4 now. Wished I got it for him right away! Very, very sturdy for my 20 pounder. Very few bolts to screw in which is a big plus! Thank you for such a high quality item! Highly recommend if you're not sure.

Cats best friend

Posted by irene on 7th Mar 2017

I have two Persian Cats that love their new Purrfect Post, trouble is now they don't want to share. They seem to fight over the bed so I might buy a 2nd one to stop the fighting. I trained them to only scratch on their Purrfect Post and not my furniture so they are aware the Product is theirs. I bought the Mondo for upstairs and the Purrfect Post for downstairs and this worked out fine. Love it! Only thing is when shipping, their should be more padding in the box to secure from damage. other then that, Cats are having a great time enjoying their new Purrfect Post, beautiful, strong and long lasting.

Love it!

Posted by Jeannette on 3rd Feb 2017

My cats took to it immediately! It is well made and will last a long time. I like the fact that even though it sits on a hardwood floor, it doesn't move around. And although I am the worst "some assembly required" do-it-yourselfer, I put it together quickly and easily. It's a winner!

Well Crafted Kitty Furniture

Posted by Diane Temple on 30th Dec 2016

This is a beautifully made product, but it did take our cat several days to decide she liked it. And now this is where she spends much of her time!
Click here for customer testimonials
Find Similar Products by Category