Purrfect View: Everest Edition

Purrfect View: Everest Edition
Enter your email address to be notified
when this item is back in stock
Product Description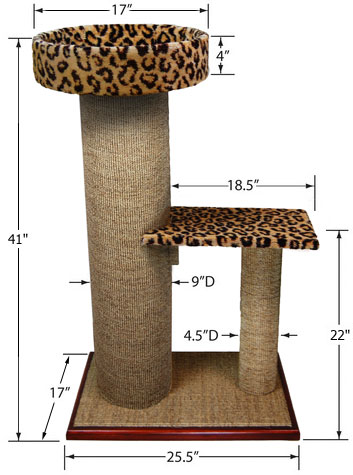 New Product Addition!
The Purrfect View: Everest Edition, our new extra-tall cat tree, is here!
For some, bigger is just better. When it comes to cats and scratching trees, you might consider a taller one if:
Maybe you have multiple large cats.
You have just one cat who is big, bold, and beautiful, and loves to climb, stretch, and perch up high.
You have a higher window in your home that your cats are longing to sit next to and gaze out of.
Whether you want a taller tree to access higher windows or so your bigger cat can stretch out fully against it, the Everest Edition is the answer.
The shorter post height remains the same as it is on the original View while the top perch is higher, creating extra space between the two perches. This produces a more tree-like experience because cats love to jump on the shorter perch (the first branch) and stretch up the post (tree trunk) to scratch, then jump up to the top (the higher branch) and take a nap.
With all the same great options available for sisal, trim, platform, and bed colors, the Everest Edition doesn't skimp on quality while providing extra scratching and climbing real estate.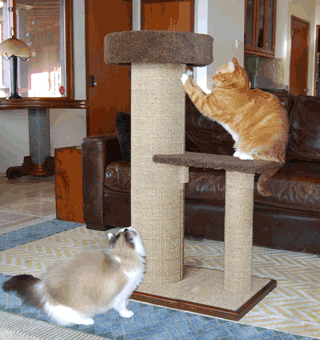 *Fact: Sisal is a natural material (derived from the agave plant of Yucatan) with strength that far exceeds that of cotton or wool. Cats prefer it even to sisal rope because of its uninterrupted, smooth scratching texture.
Product Facts:
Individually hand-made in the USA
Available in dark or light wood stain
Double-thick base for extra stability
Super-mega extra tall and wide post for scratching
Two perching areas for playing, snoozing and surveying terrain
Uppermost platform is the perfect height for completely dominating the kitty domain
Scratching material is sisal fabric — a favorite for cats
Developed by a veterinarian
Let your cat reach the highest summits and lounge in glory with The Purrfect View: Everest Edition.

You can make this snuggly cat bed even cozier by adding one of our individually handmade, incredibly soft and cuddly Muffin Blankets™ to your order. It will help keep your product's bed free of cat hair, and your cat will love how soft and warm it is. At 15" in diameter, the small size fits flush in the bottom of the bed, and at 22" in diameter, the large size drapes up the sides and over the top a bit. With two sizes and three color combinations available for this reversible blanket, you can customize your Purrfect Post product to your home even more.
Other Details
atc-product:
/da-bird-wand-toy/
atc-product:
/purr-fect-paws-cat-litter-mat/
atc-product:
/cats-rule-litter-mat/
atc-product:
/durascoop-cat-litter-scoop-single-assorted/
Product Reviews
Write Review
Previous | Showing reviews 9-10 of 10
Sturdy, Rugged and Gorgeous

Posted by Dianne Zink on 10th Nov 2016


I just received my scratching posts from Purrfect Posts; the Purrfect Post Deluxe, the Mondo Deluxe, the Purrfect View Everest Edition and the Purrfect Angle. Yes, I bought all of them based on the exceptional reviews I read. I also had several questions to be answered before I completed my order and contacted Dr. Schelling who called me and made sure every question was answered. She spent a great deal of time on the phone with me. I felt completely confident that her products were as advertised and did not hesitate to order them. My husband was extremely impressed with the craftsmanship and ease of assembly. He does not impress easily. All of the posts are of superior quality and very, very stable. Compare them to your local pet stores inventory of scratching posts and you will understand and appreciate why these posts are more expensive. When the posts have been used to their full potential, you can replace the parts that need to be replaced without throwing the entire post out and buying an entirely new post. When you consider that, these posts are well worth their initial cost.
We now await our two ragdoll kitties who will be part of our family in about a month from now. Ragdolls grow to be very large cats and these posts, especially the Everest and Mondo Deluxe, are very tall and the cats will be able to stretch completely which cats need to be able to do.
The posts are not only well made but gorgeous. I was looking for scratching posts that would look like part of my room decor and appeal to the human eye and look like a playground and great place to exercise to the cats so that they can do what cats do and need to do and also have a comfortable place to rest.
After my boys arrive and have had some time to enjoy their posts, I will write a review and let you know what THEY "think".

SERIOUSLY AWESOME!

Posted by Chris on 25th Oct 2016

This is an amazing unit. My cats love it! There are so many areas to scratch. They love lounging around on it. Extremely well made and sturdy, and it looks great. The extra height on the tall post is perfect for my big guys. They love getting up high.
Previous | Showing reviews 9-10 of 10
Click here for customer testimonials
Find Similar Products by Category