Enter your email address to be notified
when this item is back in stock
Product Description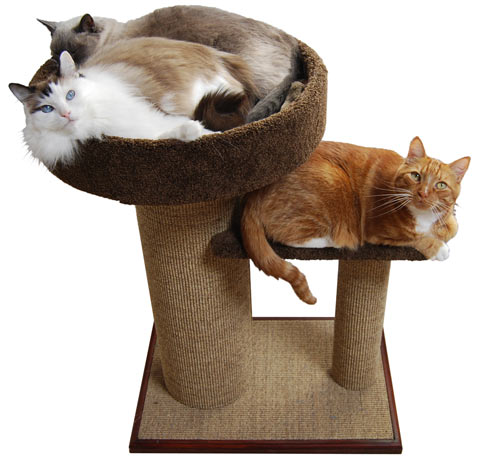 Big Bed Purrfect View
New Bigger Bed! More Room for Kitty or Kitties!
The Purrfect View is the cat tree your kitty has been dreaming of. Its bed is at window height, there's a lower platform for perching, and there's tons of scratching real estate.
This Big Bed version of our popular Purrfect View features a larger topmost bed. At 21" in diameter, your large cat can stretch out in the spacious Big Bed, or your multiple cats can climb in and snuggle up together.
We Listen to Our Customers!
Our customers asked for a bigger bed on the View. We heard them and made it happen.
With a bed this big, your cats can fit at the top together, so they won't have to play King of the View . . . unless they want to!
Also available... The Big Bed View: Everest Edition!
You can make this snuggly cat bed even cozier by adding one of our individually handmade, incredibly soft and cuddly Muffin Blankets™ to your order. It will help keep your product's bed free of cat hair, and your cat will love how soft and warm it is. We recommend the 22" size for the Big Bed products to maximize snuggle potential. With two sizes and four color combinations available for this reversible blanket, you can customize your Purrfect Post product to your home even more.
Other Details
atc-product:
/durascoop-cat-litter-scoop-single-assorted/
atc-product:
/nail-clippers-for-cats/
atc-product:
/el-gato-muy-loco-catnip-cigar/
atc-product:
/da-bird-wand-toy/
Find Similar Products by Category