Enter your email address to be notified
when this item is back in stock
Product Description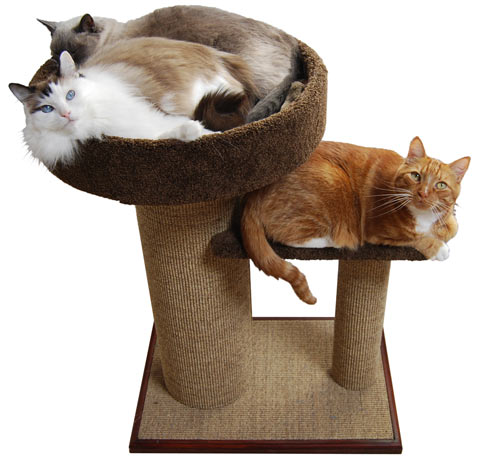 Big Bed Purrfect View
New Bigger Bed! More Room for Kitty or Kitties!
The Purrfect View is the cat tree your kitty has been dreaming of. Its bed is at window height, there's a lower platform for perching, and there's tons of scratching real estate.
This Big Bed version of our popular Purrfect View features a larger topmost bed. At 21" in diameter, your large cat can stretch out in the spacious Big Bed, or your multiple cats can climb in and snuggle up together.
We Listen to Our Customers!
Our customers asked for a bigger bed on the View. We heard them and made it happen.
With a bed this big, your cats can fit at the top together, so they won't have to play King of the View . . . unless they want to!
Also available... The Big Bed View: Everest Edition!
Other Details
atc-product:
/dart-duo-laser-cat-toy/
atc-product:
/nail-clippers-for-cats/
atc-product:
/purr-fect-paws-cat-litter-mat/
atc-product:
/tiger-dreamz-luxury-pet-bed/
Product Reviews
Write Review
Showing reviews 1-4 of 5 | Next
Great design and quality is fantastic!

Posted by Michele Howard on 22nd May 2020

My two cats love this. It's really nice to look at also. Great piece of furniture. They love the scratching posts on it also!
Very clean looking.

Excellent Quality

Posted by Terry (and Whiskers) on 25th Dec 2019

The Big Bed is the finest quality item I've purchased in long time, and is the perfect size for my Mainecoon. Easy assembly and perfect height for his window watching as well. Thank you for such a fine item.

Returning Customer

Posted by Pat on 10th Oct 2019

Product is sturdy and of excellent quality. My cats fully enjoy the comfort of this new generously-sized bed and are often found sharing it. The scratching post is frequently used saving wear and tear of my rugs and furniture!

Very high quality and USA custom made

Posted by Ricki on 12th May 2019

I am so pleased with the 2 purrfect view big bed posts I ordered. Definitely a great investment. The upgrade to big bed was the right choice for the cats, they love it. Lovely design and exceptional quality.
Showing reviews 1-4 of 5 | Next
Click here for customer testimonials
Find Similar Products by Category