Tiger Dreamz Beddy Ball Bed
Tiger Dreamz Beddy Ball Bed
Enter your email address to be notified
when this item is back in stock
Product Description
The Tiger Dreamz Beddy Ball pet bed is a stunningly beautiful, ultra-soft bed made of faux animal fur that mimics the feel, beauty, and softness of real fur. The bed will look incredible in your home, and feels like a marshmallow for a cat to perch on. You'll probably be tempted to snuggle up to it yourself, but it's unlikely that your cat will ever give you the chance!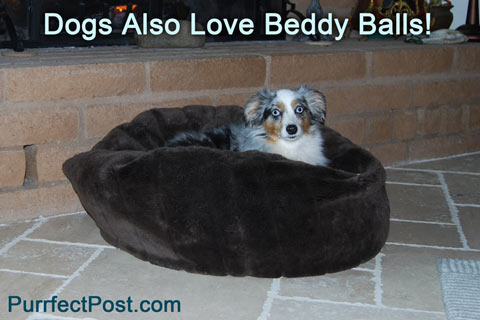 Product Facts:
Machine-washable in cool or warm water
Do not machine dry! Air dry to maintain the soft texture
Beddy balls are approximately 26" in diameter and 11-12" tall
Available in 2 colors:
Pictures are to show scale/product in use. Product is available in Ocelot and Black Forest Cake, and swatches of those colors can be viewed by choosing those colors. Bubba, the dog in the pictures, is a miniature Australian shepherd who is about 25 pounds.
Product Reviews
Write Review
Perfection

Posted by Unknown on 5th Dec 2017

Just wanted to say I appreciate the exceptional customer service every time I have ordered on your site. Stewie loves his new nap ball. At first he wasn't so sure so I had to coax him a bit but now he sleeps on it all the time. Very well made and love the color. Will definitely purchase from this site again, thanks.

totally awesome!

Posted by Chris on 7th Dec 2016

These are amazing! I bought one as a gift, and then when i received it saw how awesome these are so I thought I would order one for myself, I mean my cats, but they were sold out!

Please let me know when these are back in stock!!!


Response from Purrfect Post:
Thank you for your comments. And great news! The Beddy Balls are back in stock, but are selling fast.
Click here for customer testimonials
Find Similar Products by Category