Product Description
The MONDO!™ - It's Legendary!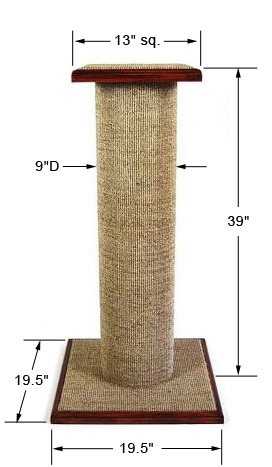 Coveted by Cats & Humans - This is no simple scratching post; this is a Scratching Tower! Cats look at it in awe before they rush to attack it. Humans proclaim, "Wow! That is one serious scratching post."
Tallest Woven Sisal Post Available - The MONDO! Is a whopping 39" tall.
Sturdy & Stable - It's tall, and that means it's even more important for it to be stable. Its double-thick, heavy, wide base ensures that your kitty can attack it with glee and be rewarded with an exhilarating scratching experience.
Top Platform for Perching - Sisal or carpet platform provides a place for your kitty to perch and check out the world.
Impressive & Attractive - This is a Pillar with a Presence. Craftsman-made with handsome wood trim in light or dark stain and high-quality materials so you can be proud to display The Mondo! in your home.
Made in the USA - Individually handcrafted with pride, and delivered directly to you.
Free Premium Catnip - Every order includes our 100% certified organic, super-potent catnip.
Money Back Guarantee - If you or your kitty don't absolutely love it, return it for a refund.
To view product dimensions and color options, click on the the individual thumbnail pictures.
For more information, check out our page devoted to The Mondo! And please visit our Gallery and Testimonials pages.
Product Videos
Purrfect Post Mondo Scratching Video
02:38
Purrfect Post Mondo Sisal Cat Scratching Post information. The Mondo can be found at purrfecpost.com
Purrfect Post ...

Purrfect Post Mondo Sisal Cat Scratching Post information. The...
Product Videos
Product Reviews
Write Review
Showing reviews 1-4 of 6 | Next
Love these posts!!!

Posted by Susannah Cox on 27th May 2016

This is our 2nd Perfect post (though we have replaced the pole section of our first post 2 times) and we LOVE them. As do our cats. This is our first Mondo- and it is great. It is big, but with 4 cats, the more scratch surface, the better. Thank you for such a quality, American made, product!

It's Lookin' Good @ 3 Weekss

Posted by Supracom on 3rd May 2016

The post arrived in great condition, it was easy to assemble (Platform and Base), and it was in service within 30 minutes. Because of the height, both cats can stretch out when using it and the post does not tip over !!! The catnip was a nice touch and the cats send their thanks !! The proof in the pudding here is how long will the post be usable.. One of the reasons we bought this is because the post can easily be replaced. Recommendation (at this time) : A Buy !!

Best cat scratching post!

Posted by Denise McKee on 25th Apr 2016

My cat had ruined a number of expensive chairs. As soon as I took this out of the box she was instantly drawn to it. She hasn't touched my sofa since. Thank you so much for making a product that cats love! Happy kitty equals happy owner :-)

AWESOME

Posted by Melody Smith on 6th Apr 2016

Our kitty is still little (7months) but he is a wild little siamese. He is still getting used to his tower but uses it every day. He stretches out as tall as he can get and scratches. Lots of room still left for that stretching. It is a really nice piece of furniture.
Showing reviews 1-4 of 6 | Next
Click here for customer testimonials
Find Similar Products by Category