Product Description
The MONDO!™ - It's Legendary!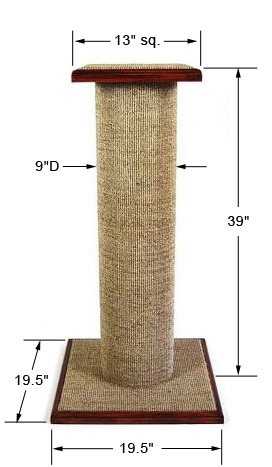 Coveted by Cats & Humans - This is no simple scratching post; this is a Scratching Tower! Cats look at it in awe before they rush to attack it. Humans proclaim, "Wow! That is one serious scratching post."
Tallest Woven Sisal Post Available - The MONDO! Is a whopping 39" tall.
Sturdy & Stable - It's tall, and that means it's even more important for it to be stable. Its double-thick, heavy, wide base ensures that your kitty can attack it with glee and be rewarded with an exhilarating scratching experience.
Top Platform for Perching - Sisal or carpet platform provides a place for your kitty to perch and check out the world.
Impressive & Attractive - This is a Pillar with a Presence. Craftsman-made with handsome wood trim in light or dark stain and high-quality materials so you can be proud to display The Mondo! in your home.
Made in the USA - Individually handcrafted with pride, and delivered directly to you.
Free Premium Catnip - Every order includes our 100% certified organic, super-potent catnip.
Money Back Guarantee - If you or your kitty don't absolutely love it, return it for a refund.
To view product dimensions and color options, click on the the individual thumbnail pictures.
For more information, check out our page devoted to The Mondo! And please visit our Gallery and Testimonials pages.
Product Videos
Purrfect Post Mondo Scratching Video
02:38
Purrfect Post Mondo Sisal Cat Scratching Post information. The Mondo can be found at purrfecpost.com
Purrfect Post ...

Purrfect Post Mondo Sisal Cat Scratching Post information. The...
Product Videos
Product Reviews
Write Review
Showing reviews 1-4 of 9 | Next
Still waiting for the to use it

Posted by Karen Myford on 25th Jul 2016

It's been several weeks and none of my three cats have shown interest in the Mondo. It is HUGE. Much bigger than I realized and I think my cats aren't sure what it is or what to do with it - despite the catnip. It is also like half column in my home which is an eyesore.

Paws Raised for Purrfect Post

Posted by Carol I. Picciolo on 19th Jul 2016

My cats love their Purrfect Post and use this post daily. This useful cat post has been placed in front of our living room window and is their go-to place for scratching and stretching.

My cat is in love

Posted by Rick Smith on 3rd Jun 2016

I never had a scratching post that a cat used before. I took a risk and spent the substantial sum to buy this large Mondo post. (My cat Thomas is a REAL big boy). After it sat in my living room untouched for a week I thought I had wasted my money. The cat was still tearing up our sofa.

I picked up my laser light and kept prompting him over to the Mondo. All it took was for him to accidentally catch one paw on the post and it was love at first swipe. He uses his Mondo all the time now. I mean constantly. Doesn't matter if we move it around or not - he will go out of his way to use it. And the best part is our sofa is not of interest to him at all anymore. We are so confident now that we finally sent out the sofa for reupholstering.

Last week we moved into a new house with two stories. Before we even moved I ordered my second Mondo to arrive at the house too. I unpacked it today and placed it upstairs. He noticed it the first time he went by and actually went over to take a nap on it and was laying o his new Mondo purring. He was so happy!

I want to thank you for saving our furniture and my cat Thomas wants to thank you for the 2nd Mondo! I will never be without them again!

Love these posts!!!

Posted by Susannah Cox on 27th May 2016

This is our 2nd Perfect post (though we have replaced the pole section of our first post 2 times) and we LOVE them. As do our cats. This is our first Mondo- and it is great. It is big, but with 4 cats, the more scratch surface, the better. Thank you for such a quality, American made, product!
Showing reviews 1-4 of 9 | Next
Click here for customer testimonials
Find Similar Products by Category