Mondo Deluxe Double Bundle
Mondo Deluxe Double Bundle
Enter your email address to be notified
when this item is back in stock
Product Description
The MONDO!® Deluxe - Double Bundle
With all the benefits of the Mondo! Standard and the addition of a super-cozy cat bed on top, it's beyond legendary!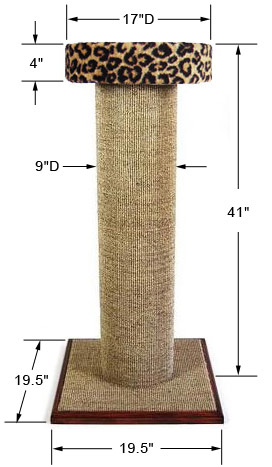 Times Two - With a savings of $20
Coveted by Cats & Humans - This is no simple scratching post; this is a Scratching Tower! Cats look at it in awe before they rush to attack it. Humans proclaim, "Wow! That is one serious scratching post."
Tallest Woven Sisal Post Available - The MONDO! Is a whopping 39" tall.
Sturdy & Stable - It's tall, and that means it's even more important for it to be stable. Its double-thick, heavy, wide base ensures that your kitty can attack it with glee and be rewarded with an exhilarating scratching experience.
Comfortable Round Bed - Your cat can lounge alone or share the accommodating cozy bed with a feline companion.
Impressive & Attractive - This is a Pillar with a Presence. Craftsman-made with handsome wood trim in light or dark stain and high-quality materials so you can be proud to display The Mondo! Deluxe in your home.
Made in the USA - Individually handcrafted with pride, and delivered directly to you.
Free Premium Catnip - Every order includes our 100% certified organic, super-potent catnip.
To view product dimensions and color options, click on the the individual thumbnail pictures.
For more information, check out our page devoted to The Mondo! And please visit our Gallery and Testimonials pages.
You can make this snuggly cat bed even cozier by adding one of our individually handmade, incredibly soft and cuddly Muffin Blankets™ to your order. It will help keep your product's bed free of cat hair, and your cat will love how soft and warm it is. At 15" in diameter, the small size fits flush in the bottom of the bed, and at 22" in diameter, the large size drapes up the sides and over the top a bit. With two sizes and four color combinations available for this reversible blanket, you can customize your Purrfect Post product to your home even more.
Other Details
atc-product:
/da-bird-wand-toy/
atc-product:
/dr-catsbys-whisker-relief-food-bowl/
atc-product:
/dr-catsby-whisker-relief-water-bowl/
atc-product:
/yeowww-ola-catnip-crayons/
Product Reviews
Write Review
Sturdy

Posted by Unknown on 15th Apr 2021

These climbers are sturdy and all of our cats like to climb, scratch and lay on them.

Pride of Happy Cats

Posted by Cat Lover on 11th Nov 2019

We have four cats. For several years, we've had one Mondo. All four cats love it - and they fought over it.

What we needed was more Kitty Real Estate. So, we bought two more Mondos. This time, we ordered the kind that have the bed/perch on top.

The cats are so HAPPY! They immediately began using the new Mondos. Any time day or night, you can always find at least one cat curled in the bed on top - and usually another scratching away below.

We used to buy "regular" store scratching posts (not from Purrfect Post) and they fell apart. There were little shreds of junk all over the house, and it was a hassle. We always had to buy new ones because they never lasted.

Thank goodness for the Internet, which told us about the Mondo. We've never looked back and now it's the only kind of post we'll buy. Our last one was more than five years old and still looks great. These new ones will get years of use. We're so happy with this great product. Thank you!


The quality is outstanding!

Posted by Lorraine Richey on 21st Aug 2017

Although I love these posts, my cat loves them more!!! Scratch away heaven!
Click here for customer testimonials
Find Similar Products by Category