Sophisticat™ Sisal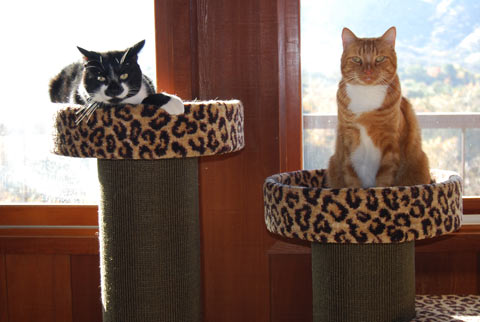 This special, elegant color is now an option on all Purrfect Post products that are covered in sisal material. It's the same rough and tough fabric that cats love to scratch, available in a new, lovely color.
Sophisticat sisal is versatility itself. With different looks in different lighting and surroundings, it can help create a beautiful accent piece for any space.
You take control of Sophisticat's unique look when you choose to combine it with either our light or dark wood trim colors on your Purrfect Post product, bringing different hues to the forefront. In bright lighting and next to the light wood trim, Sophisticat's color appears greener. In warm lighting and next to the dark wood trim, it appears browner.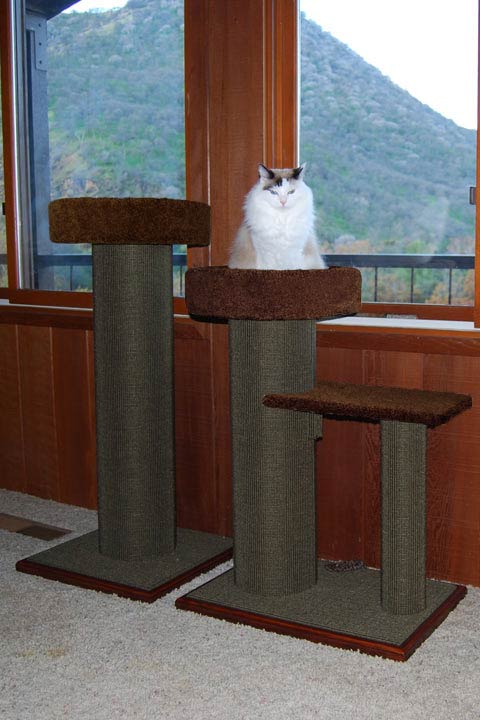 As if that wasn't enough flexibility, choose the Mondo™! Deluxe or the Purrfect View™, and you'll have your choice of carpet colors for the bed on top. Each distinct carpet shade highlights a different tone from Sophisticat's complex shading.
Choose Leopard carpet with Sophisticat sisal for a luxurious look.
Cappuccino carpet on the bed provides a high-contrast, completely distinct combination that's perfect for a garden-type feel.
And now we have the new Deep Brown carpet color. This color is the same tone as the Sophisticat sisal but without any shades of green. Paired with Sophisticat, the result is perfect for a cozy den or study.
If you want a versatile accent piece that you can be proud to display prominently in your home, Sophisticat is the color for you.
Elegant. Classy. Eye-catching. Regal. Sophisticat sisal on a Purrfect Post product helps you treat your cat like royalty every day.