Product Description
The Purrfect Post is Designed for Cats to Love!
Veterinarian Designed - Cat Approved.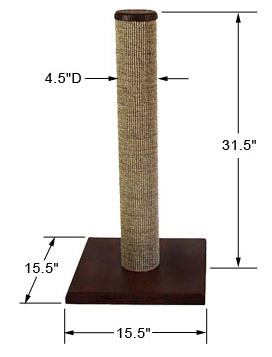 Tall - 31.5 inches tall, so your cat can stretch and achieve a satisfying scratch.
Sturdy - Double-thick, heavy base ensures that this post won't topple over.
Premium Sisal Fabric - Post is covered in high-quality sisal fabric. Cats prefer scratching sisal fabric over carpet or sisal rope. The base is stained a dark brown and has a rougher texture and appearance than the Purrfect Post Deluxe.
Attractive - Craftsman-made posts that are appealing to both you and your cat. Beautiful wood trims and caps available in light or dark stain.
Made in the USA - High-quality materials and expert construction.
Money Back Guarantee - If your cat doesn't absolutely LOVE this post, you can return it for a refund.
Free Catnip - Premium, 100% organic catnip included with every order.
To view product dimensions and color options, click on the the individual thumbnail pictures.
For more info on this great post, click here.
Check out our Testimonials and Gallery pages filled with satisfied customers.
Product Reviews
Write Review
Previous | Showing reviews 5-6 of 6
Took some convincing but now they love it

Posted by R on 5th Jan 2016

I bought this for the newly adopted stray in the household - she was targeting an antique couch, and my parents were thinking of rehoming her. (Our incumbent cat has always scratched horizontal scratch pads or the carpet, so we never got a vertical post.) I realized that the cheap scratching posts imported from other countries were the same price, or even more expensive than this scratching post! Only this post seemed to be made of far better materials- sisal carpet instead of cheap sisal rope.

I appreciate the thought that went into the design of the scratching posts, particularly the different options for the wood finish and the height of the posts. The new cat is almost twice the size and weight of the resident cat, so we needed a taller-than-average post.

It took about a week for both cats to understand that the post was their new scratch target, and two weeks for them to ignore the couch entirely. I got them "hooked" by dragging the cat dancer toy around the post, which made them leap up and dig their claws in. (This was combined with covering the antique couch in a heavy blanket, which the cats now use as a hide to stalk toys their toys from). The incumbent cat in particular likes to perch on the top and pretend to be Godzilla, swatting at me when I walk by. I've already recommended the post to our neighbor and her cat, it can be so difficult to find stuff for your pets made in the USA, but so worth the price.

Lupe LOVED It!

Posted by Jean Dean on 20th Dec 2015

We've bought 3 different scratching posts/boards and our cat wouldn't go near them. She destroyed a leather chair instead so we thought we'd try the Purrfect Post to get her trained before we replaced the chair. Our Lupe LOVES it! She plays on it and I haven't seen ripping into the edge of the couch since!
Previous | Showing reviews 5-6 of 6
Click here for customer testimonials
Find Similar Products by Category