Product Description
The Purrfect Post is Designed for Cats to Love!
Veterinarian Designed - Cat Approved.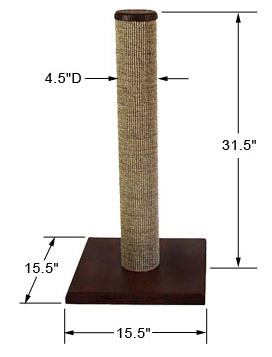 Tall - 31.5 inches tall, so your cat can stretch and achieve a satisfying scratch.
Sturdy - Double-thick, heavy base ensures that this post won't topple over.
Premium Sisal Fabric - Post is covered in high-quality sisal fabric. Cats prefer scratching sisal fabric over carpet or sisal rope. The base is stained a dark brown and has a rougher texture and appearance than the Purrfect Post Deluxe.
Attractive - Craftsman-made posts that are appealing to both you and your cat. Beautiful wood trims and caps available in light or dark stain.
Made in the USA - High-quality materials and expert construction.
Money Back Guarantee - If your cat doesn't absolutely LOVE this post, you can return it for a refund.
Free Catnip - Premium, 100% organic catnip included with every order.
To view product dimensions and color options, click on the the individual thumbnail pictures.
For more info on this great post, click here.
Check out our Testimonials and Gallery pages filled with satisfied customers.
Product Reviews
Write Review
Showing reviews 1-4 of 6 | Next
My cats love these posts!

Posted by Catherine Arnes on 11th Oct 2017

These are great posts. The cats really like the sisal fabric. They won't touch sisal rope toys. The posts are nice and tall and heavy so they don't tip over. I'm on my 4th one now. I have two going at a time to avoid any furniture damage.

Did what it said it would

Posted by Jeff D. on 24th Aug 2017

My new cat would not use any of the other scratchers I bought so I bit the bullet and spent the money on a Purrfect Post. She took to it almost immediately and while she still goes after my recliners once in a while, not near as much as she used to and hopefully soon not at all. Very solid and well built. I recommend it!!

Tatter & Hooper Love it!!

Posted by Unknown on 28th Oct 2016

This is a very sturdy post. They can charge at it and it doesn't move.

Velcro and Co. love it!

Posted by Betsey on 8th Feb 2016

It's hard to find a scratching post my cats actually use - but this was the one! The large surface of sisal rope is wonderful and really attracts attention from the felines in our family.
Showing reviews 1-4 of 6 | Next
Click here for customer testimonials
Find Similar Products by Category