Purrfect Post Deluxe Gold Edition
Purrfect Post Deluxe Gold Edition
Enter your email address to be notified
when this item is back in stock
Product Description
Gold Edition - For a limited time only
The Purrfect Post is Designed for Cats to Love!
Veterinarian Designed - Cat Approved.
This is the deluxe Purrfect Post with a beautiful, vibrant golden colored sisal material covering the base as well as the post. This limited-run post really complements both the light and dark stained versions of the ultimate scratching post for a bright, classy look.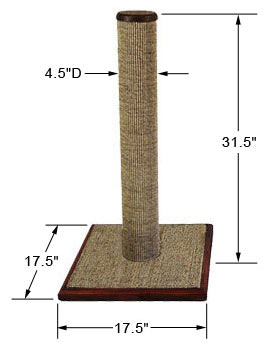 Tall - 31.5 inches tall, so your cat can stretch and achieve a satisfying scratch.
Sturdy - Double-thick, heavy base ensures that this post won't topple over.
Sisal Fabric - Premium sisal fabric covers post and base, so cats can scratch vertically or horizontally. Cats prefer scratching sisal fabric over carpet or sisal rope.
Attractive - Craftsman-made posts that are appealing to both you and your cat. Beautiful wood trims and caps available in light or dark stain.
Made in the USA - High-quality materials and expert construction.
Money Back Guarantee - If your cat doesn't absolutely LOVE this post, you can return it for a refund.
Free Catnip - Premium, 100% organic catnip included with every order.
For more info on this great post, click here.
Check out our Testimonials and Gallery pages filled with satisfied customers.
Product Videos
Purrfect Post Deluxe and Purrfect Angle Combo
02:30
This video shows cats satisfying their natural scratching instincts by playing on the Purrfect Post Deluxe and Purrfect Angle Scratchers. The Purrfect Post Deluxe features long-lasting woven sisal, and the Purrfect Angle's replaceable corrugated cardboard scratching insert allows cats to get the most out of their stretches and scratches.
Purrfect Post ...

This video shows cats satisfying their natural scratching inst...

Purrfect Post ...

Cats testing the Purrfect Post Deluxe sisal cat scratching pos...
Other Details
atc-product:
/yeowww-heart-attack-catnip-toy-single/
atc-product:
/catnip-felt-hearts-single/
atc-product:
/catn-around-organic-catnip-heart-toy/
atc-product:
/catn-around-cupcake-catnip-toy/
Product Reviews
Write Review
Previous | Showing reviews 5-5 of 5
Love these & so do the cats

Posted by Unknown on 15th Feb 2016

I am a very satisfied customer which you can tell by the fact that this is my 3rd purrfect post scattered throughout my house. I also have the mondo in the family room and the cats enjoy crawling up to the top platform and viewing their world. Quality is top-notch...heavy base, perfect height for a good stretch and sturdy material for scratching.Very easy to assemble.
Previous | Showing reviews 5-5 of 5
Click here for customer testimonials
Find Similar Products by Category