Purrfect Post Deluxe Gold Edition
Purrfect Post Deluxe Gold Edition
Enter your email address to be notified
when this item is back in stock
Product Description
Gold Edition - For a limited time only
The Purrfect Post is Designed for Cats to Love!
Veterinarian Designed - Cat Approved.
This is the deluxe Purrfect Post with a beautiful, vibrant golden colored sisal material covering the base as well as the post. This limited-run post really complements both the light and dark stained versions of the ultimate scratching post for a bright, classy look.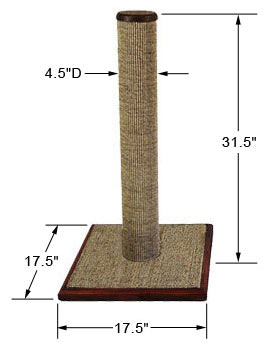 Tall - 31.5 inches tall, so your cat can stretch and achieve a satisfying scratch.
Sturdy - Double-thick, heavy base ensures that this post won't topple over.
Sisal Fabric - Premium sisal fabric covers post and base, so cats can scratch vertically or horizontally. Cats prefer scratching sisal fabric over carpet or sisal rope.
Attractive - Craftsman-made posts that are appealing to both you and your cat. Beautiful wood trims and caps available in light or dark stain.
Made in the USA - High-quality materials and expert construction.
Money Back Guarantee - If your cat doesn't absolutely LOVE this post, you can return it for a refund.
Free Catnip - Premium, 100% organic catnip included with every order.
For more info on this great post, click here.
Check out our Testimonials and Gallery pages filled with satisfied customers.
Product Videos
Purrfect Post Deluxe and Purrfect Angle Combo
02:30
This video shows cats satisfying their natural scratching instincts by playing on the Purrfect Post Deluxe and Purrfect Angle Scratchers. The Purrfect Post Deluxe features long-lasting woven sisal, and the Purrfect Angle's replaceable corrugated cardboard scratching insert allows cats to get the most out of their stretches and scratches.
Purrfect Post ...

This video shows cats satisfying their natural scratching inst...

Purrfect Post ...

Cats testing the Purrfect Post Deluxe sisal cat scratching pos...
Other Details
atc-product:
/colorful-comets-catnip-toy-single-assorted/
atc-product:
/honeysuckle-spray/
atc-product:
/yeowww-sun-moon-and-stars-catnip-toy/
atc-product:
/ratherbee-candy-stix-organic-catnip-toy-single-assorted/
Product Reviews
Write Review
Showing reviews 1-4 of 5 | Next
Repeat Purchase!

Posted by Unknown on 6th Dec 2016

The post is perfect for my cat who loves to claw upright. Tall, sturdy and attractive. This is his second one - the first is a bit shaggy so it's been moved out of the living areas. Easily assembled.

best scratching post

Posted by Unknown on 27th Jul 2016

i've bought several posts and other cat scratchers over the years, and honestly didn't expect the purrfect post to be anything new or better. i am glad to say i was wrong! our finicky cat loves the post, uses it all the time - and it keeps her nails off our furniture. the placement in the house helped, too - be sure to follow the suggestions for finding the best location in your house.

Gorgeous Color!

Posted by Chris on 31st Mar 2016

This gold is amazing. I have it with the dark wood trim and the contrast is gorgeous.
And most important, my cats are using it instead of my couch.

Happy 10th Birthday Present

Posted by Unknown on 23rd Mar 2016

My cat Annie had her Purrfect Post for 10 years and it was finally looking a little shabby. Since it had worked so well, I ordered her a new post for her 10th birthday and she loves it. Trying to get my other cat Sheldon (aka Shelly) to begin using it. He's 3 and still prefers furniture. Working on that problem.
Showing reviews 1-4 of 5 | Next
Click here for customer testimonials
Find Similar Products by Category